Trekking-Day 1-Mitsumine Shrine/Mt. Myohogatake
The first mountain trekking after the surgery.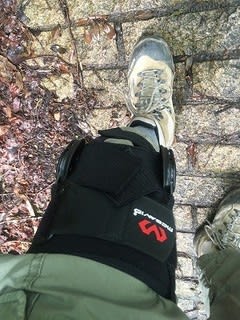 I still use the knee brace.
Day 1
Mitsumine Shrine/Mt. Myohogatake 8:47-12:22
Distance today 8.9km, climb 1,037m, duration 3:34, avg speed 2.5km/h, burned 913kcal
Today's route
415 days since injury, 384 days since surgery
CAUTION! The duration in this article is due to my experiences and physical strength, and much shorter than the standard course time. Please plan by yourself considering your own experiences and physical strength when you plan to walk the course.
Before the trekking season starts, I wanted to make sure how my ability has been recovered after the surgery. I considered some possibilities and decided to go to Mitsumine shrine.
I parked my car at Chichibu station and rode on a train.
Arrived at Mitsumineguchi station.
It is very disappointing to find a parking lot here.
I would park here I would have known it.
Riding on a bus and got off at Ohwa.
Started walking at Toryukyo (rising dragon) bridge.
Today I accompanied with my friend Shuzo.
35 minutes to Seijonotaki water fall while the standard duration is 1 hour 10 minutes.
+22 minutes to Yakushido.
Almost arrived.
Nice trees in the fog.
Arrived at Mitsumine shrine in 1 hour 46 minutes, while the standard duration is 2 hour 40 minutes.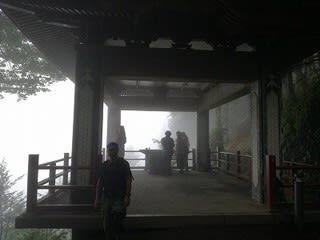 Good pace.
We did not visit the main shrine, and attempted to Mt. Myohogatake, where Okumiya shrine is located.
Shuzo gave up clibming and I made it alone in very high pace.
I dropped my hand towel somewhere.
I could not wipe sweat without that handy towel. Very annoying.
I almost got my legs cramp on the way back. Despite of my training at gym, the muscles for descending are different.
Arrived at Mt. Myohogatake in 46 minutes, while the standard duration is 1 hour 20 minutes.
Came back to Mitsumine shrine in 45 minutes.
Now we visit the shrine.
And we could catch a bus at 12:30 returning to Seibu-Chichibu station.
Good to catch the direct returning bus.
We picked up my car and went to Mangannoyu hot spring.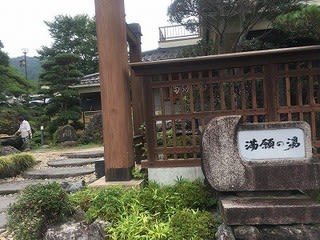 I used to come here very often when I was paddling almost ten years ago. Late lunch time at a pizza restaurant.
The weather was not perfect but cool enough to climb.
Good to know my recovered ability.