Cycling-Day 62-Tokyo Big Sight
Visiting an exhibition at Tokyo Big Sight.
I used a shared bike from Tokyo Big Sight to Hibiya.
Day 62, 364 days for cycling, total distance 22,919.0km, total climb 246,544m
Tokyo Bigsite 13:39-14:05
Distance today 6.5km, climb 93m, duration 0:26, avg speed 14.9km/h, burned 164kcal
Gear: DoCoMo Bikke
390 days since injury, 359 days since surgery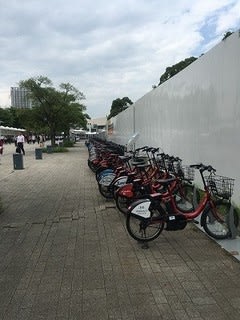 After two traffic accident recently, I bought a foldable helment even for a city riding.
This building was known as Mza Ariake, a disco site over 20 years ago.
This street is expected to be an access road for Tokyo Olympic Game 2020.
Arrived at Hibiya within 30 minutes.
Much faster and less expensive than riding a train.