Cycling-Day 59-Tama River(Hamura Dam)
Nice weather.
Fianlly riding to Tamagawa. There were windy days and I couldn't go to Tamagawa to be afraid of the strong against wind.
Day 59, 361 days for cycling, total distance 22,995.9km, total climb 246,586m
Tama River(Hamura Dam) 9:04-15:12
Distance today 103.8km, climb 410m, duration 4:46, avg speed 21.7km/h, burned 2,158kcal
Gear: SPECIALIZED DOLCE
386 days since injury, 355 days since surgery
Arrived in 2 hours 4 minutes.
I was afraid of the wet road after the rain last night, but the road was dried already.
Then stopping by the burger restaurant as usual.
It's been almost two months since last time.
On the way back I stopped by Takahata Fudo temple,
To see hydrangea flowers.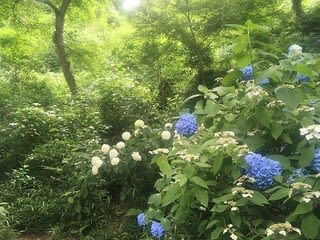 They bloom nicely, and Takahata Fudo is less crowded than Meigetsuin.
I could walk around to see flowers easily.
After hydrangea watching, I returned to Tamagawa and ran.
Before being home, I visited a patisserie.
Nice riding over 100km.