Walking-Day 7-Nakameguro
I had a party in Nakameguro, and walked down there.
Day 7
Nakameguro 18:03-23:38
Distance today 9.4km, climb 149m, duration 1:44, avg speed 5.4km/h, burned 464kcal
370 days since injury, 339 days since surgery
Arrived in 1 hour in 4.8km.
Nice food with my high schoolmates.
Then walked back home but I stopped at a burger restaurant.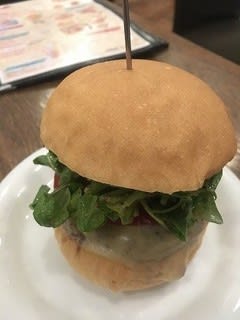 And also at this red lantern.
The walking exercise was absorbed with this much food...