Ski day 15 at Happo One
The winter comes again.
Season Day 15, Powder 1 day, Backcountry 1 day, Telemark 0 days
Happo One 8:00-9:20
Gear:Teneighty GUN+Dynafit Beast
Official Snow fall 25cm, Kanayamazawa 12H 28cm
324 days since injury, 293 days since surgery
I was not so late but there was a long queue already.
Looks like the winter again.
The first powder run after the surgery. I was not sure how much I could do, and afraid of hidden bumps under the powder.
I didn't go to Usagi but went to Riesen, where the surface is surely groomed.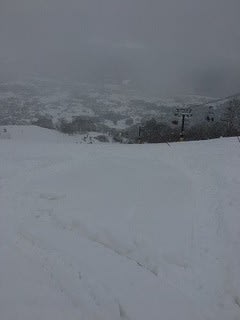 The snow was heavy, but really powdery.
I was not so confident to go fast.
I saw Panorama course was closed when I went down, and expected to open when I came back again.
Panorama was just opened when I arrived again.
I got the first track,
but I was really afraid of my knee.
I meant to finish, but it was annoying to walk up from the end of Kokusai #3 chairlift, and I went down to Panorama pair chairlift.
I used the descending gondola lift, but did not ski down.
This is the first, and will be the last powder run, but good to have. I haven't expected this.