Ski day 14 at Happo One
Morning skiing.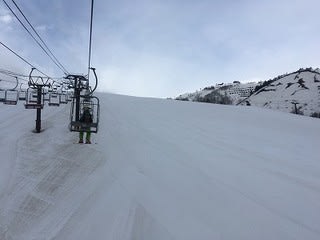 Season Day 14, Powder 0 days, Backcountry 1 day, Telemark 0 days
Happo One 8:00-10:00
Gear:HEAD i.Supershape Magnum+Tecnica Cochise 130
323 days since injury, 292 days since surgery
Nice cruising on Panorama with corn snow.
Transferred to Skyline.
Surprising to see the ground in the first week of April.
I have never seen the ground in Skyline in early April.
For dinner I walked up to the village.
Walking Day 3
Hakuba 18:10-21:35
Distance today 6.1km, climb 44m, duration 1:01, avg speed 5.7km/h, burned 270kcal