Ski day 9 at Happo One
Finally I became free from the doctor control for skiing.
Season Day 9, Powder 0 days, Backcountry 0 days, Telemark 0 days
Happo One 7:30-10:00
Gear:HEAD i.Supershape Magnum+Tecnica Cochise 130
309 days since injury, 278 days since surgery
A month ago the doctor permitted me for skiing but not exactly full.
Last Monday the doctor finally have permitted me for increasing skiing gradually.
Beautiful clouds sea.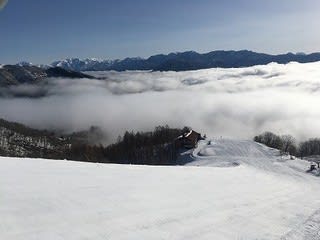 The view is usual, but looks different after the permission.
After several runs I went up above Usagi.
The top of the ski resort.
It's been almost a year since last time.
Good to be here.
The way back was rough which made me nervous.