Ski day 3 at Happo One
Season Day 3, Powder 0 days, Backcountry 0 days, Telemark 0 days
Happo One 12:30-13:40
Gear:HEAD i.Supershape Magnum+Tecnica Cochise 130
287 days since injury, 256 days since surgery
I had a business dinner in Nagoya yesterday. After that we went to Karaoke and came back to the hotel at 3:30a.m.
Went to bed after 4a.m. and Woke up at 7:30.
Departed Nagoya and drove straight to Hakuba.
Good to arrive around noon. Started from Nakiyama.
It was very windy and upper lifts were closed. It does not matter to me, as I cannot go up to the steep slopes.
Happo #1 pair lift got a long queue.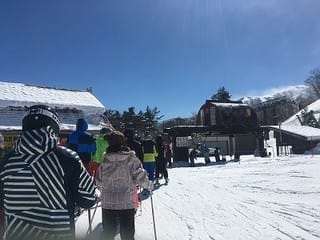 Riesen had a competition and half of course was closed. The slopes already became rough and it was not easy for my injured knee to go down.
I did 7 runs in 1 hour 10 minutes. Then finally I could come to my favorite cafe.