Cycling-Day 13-Tama River(Hamura Dam)
The snow still remains on the road. Not sure how far I can make, but I go as far as I can.
Day 13, 315 days for cycling, total distance 21,428.0km, total climb 232,917m
Tama River(Hamura Dam) 10:36-16:00
Distance today 100.6km, climb 402m, duration 4:37, avg speed 21.7km/h, burned 2,090kcal
Gear: GIANT DEFY COMPOSITE SE
254 days since injury, 223 days since surgery
Tamagawa for the first.
Mostly ok on the road, but some parts were narrow with the snow.
After passing Chuo line railway, the road ends with the snow.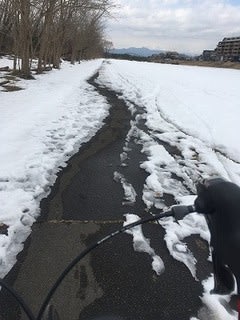 The road on the bank was clear. I keep going.
The road in Fussa Minami park was muddy.
I was on bike, but couldn't go on the halfway. I finally pushed my bike until the muddy road ends.
I could manage to come to Hamura.
2 hours 12 minutes.
There were some icy parts and narrow parts with the snow where I had to push my bike or slow down. 2 hours 12 minutes were not bad.
Burger as usual.
I could run faster on the way back as I knew where the obstacles are.
Bakery as usual.