Hawaii -day 2-Waikiki
Continued from
Hawaii -day 1-Waikiki
Day 2 was rainy.
Walking around in Waikiki streets for breakfast.
I borrowed an umbrella at the hotel, but nobody was currying it.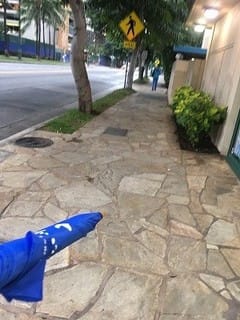 The destination restaurant was closed and stopped by Cheese Burger Beachwalk.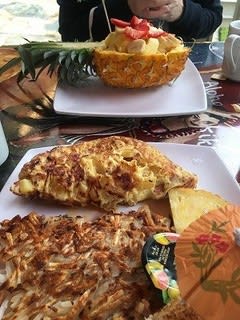 226 Lewers St #152, Honolulu, HI 96815
Fruit plate and omelet plate.
I had to finish some stuff in the morning while my wife was taking a beauty treatment.
In the afternoon we hired a rental car.
The original plan was driving around the beautiful beach but the weather did not permit today.
Driving to
Leonard's Bakery
for malasada.
933 Kapahulu Ave, Honolulu, HI 96816
The parking lot was full but cars come and leave quickly.
Good to have the fresh malasada.
We wanted to have pancakes at Cinnamon's at the Ilikai,
but the time was for beverage only.
Then we drove to Kaka'ako, a newly developed commercial complex.
Light lunch at Kaka'ako Kitchen in Ward Village.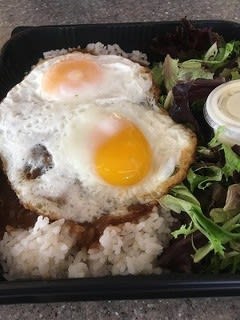 This Loco Moco was just a to-go menu, but really nice.
Then we visited Ala Moana center again.
After booking seats for dinner we drank tapioca milk tea
at Mr. Tea Cafe
Ala Moana Center Mall Level (Ewa Wing) 1450 Ala Moana Blvd Suite 2520
We got back to the hotel and changed the cloths, then we came back to Ala Moana center again, for dinner at
Mariposa
in Neiman Marcus.
Nice atmosphere.
I ate hamburger.
The weather was not good, but the tasty dinner closed today well. Continued to
Hawaii -day 3-Kahara/Kailua
.