Cycling-Day 57-Shinjuku-Roppongi
From Shinjuku to Roppongi.
Day 57, 296 days for cycling, total distance 20,314.9km, total climb 226,401m
Shinjuku-Roppongi 11:54-12:26
Distance today 8.0km, climb 130m, duration 7:54, avg speed 15.0km/h, burned 194kcal
Gear: DoCoMo Bikke
210 days since injury, 179 days since surgery
I received an international driving license at Tokyo Metropolitan office.
There was no cycling port at Tokyo Metropolitan office.
This place should be the first place for the cycling port, but probably the "public" space prevents lending the space to a commercial company.
Hailstones were falling.
Arriving at Roppongi in 32 minutes.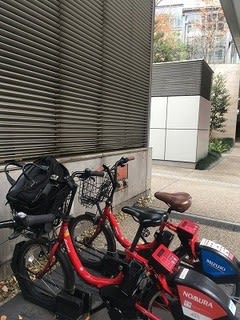 The bicycle charges every 30 minutes. It's a shame for only two minutes extension.