Cycling-Day 56-Haneda Int'l Airport
A ride in the afternoon.
Day 56, 295 days for cycling, total distance 20,349.8km, total climb 226,455m
Haneda Int'l Airport 12:27-15:53
Distance today 50.8km, climb 314m, duration 2:31, avg speed 20.1km/h, burned 1,105kcal
Gear: GIANT DEFY COMPOSITE SE
201 days since injury, 170 days since surgery
Today I was released in the afternoon and wanted to go riding.
The morning meeting was delayed and I came home at noon.
I wanted to go riding longer, but I changed the plan to Haneda Airport to exchange cash.
The road was rough on the way, and my drink bottle jumped up and dropped on the road. I watched the bottle and wished no cars or trucks would squash.
The poor bottle was really squashed by a truck.
I used this for a long time but it got dents and scratches, I actually had to buy a new one. I didn't realize it's time to do so.
The place was just in front of the glossary store, but I found I left my wallet home.
I bought a new bottle with electric money, and returned home to pick it.
The bottle told me that I left my wallet with being squashed itself. Sorry for it.
The round extra trip home added 10km, and I arrived in the airport.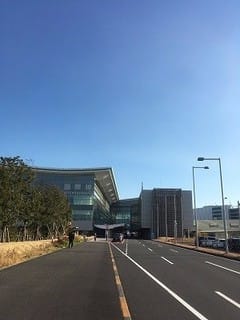 Then I exchanged cash and returned home.
Tamagawa cycling road.
And I bought cakes on the way back.
I planned to go to a restaurant to eat lunch, but I could not make it by the open time due to the return for the wallet.
The cakes became my lunch.
Good to go riding over 50km despite of some troubles.