Cycling-Day 42-Roppongi/Shibakoen/Kanda
Hopping for work.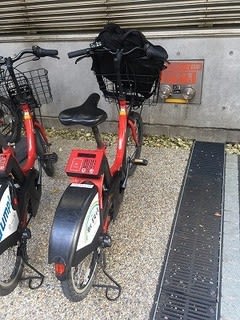 Day 42, 281 days for cycling, total distance 19,658.9km, total climb 222,210m
Roppongi/Shibakoen/Kanda 13:41-16:21
Distance today 7.6km, climb 200m, duration 3:4, avg speed 8.9km/h, burned 235kcal
Gear: DoCoMo Bikke
175 days since injury, 144 days since surgery
Carrying a big bag in the front basket and wearing suits, like a sales person of a commercial bank.
From Roppongi to ShibaKoen.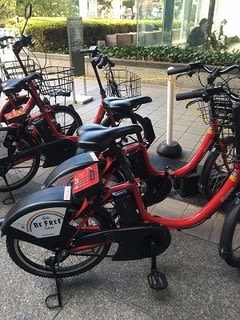 After a meeting, the next trip is from ShibaKoen to Kanda.
The bike I rode from Roppongi was still there. I used the same bike again, because I didn't have to change the seat position.
I rode very fast,
And arrived in Kanda in only 21 minutes.
The rental fee was 150yen, less than subway toll and duration.
I wanted to ride from Kanda to Shibuya again, but the meeting in Kanda was extended and I couldn't make it.
Then I walked from Shibuya to home.
Walking-Day 10-Shibuya(6.5km)
Day 10
Shibuya 22:41-0:27
Distance today 6.5km, climb 95m, duration 1:26, avg speed 4.5km/h, burned 308kcal
Much better than riding an exercise bike in a gym.