Cycling-Day 23-Matsumoto Castle
Cool riding in Hakuba.
Rice fields got yellow while I was absent.
Day 23, 262 days for cycling, total distance 18,934.0km, total climb 214,731m
Matsumoto Castle 8:01-15:10
Distance today 118.5km, climb 633m, duration 5:33, avg speed 21.4km/h, burned 2,276kcal
Gear: Specialized Rockhopper Pro
106 days since injury, 75 days since surgery
I was thinking to go to Daio Wasabi field, a shorter riding but the wheel break blade got noise on the way. Then I changed my mind to go to Bike Ranch for maintenance, and Matsumoto castle is not far from Bike Ranch.
Eventually the final destination became Matsumoto castle, 60km away.
Arriving 2 hours 35 minutes.
Rehabilitation with this knee brace required longer duration.
I arrived at Bike Ranch before it was open.
They fixed the brake blade and I got on the way back.
Nice cool breeze,
but the wind got stronger, and against.
Buckwheat field got flowers. Actually it stinks.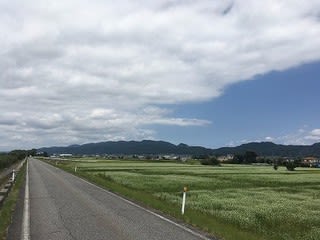 I wonder how the rich flavor of buckwheat is made from this stinky flowers.
My initial plan was to take lunch in Omachi city, but I got hunger-knocked 10km before Omachi.
After the surgery I got weakened.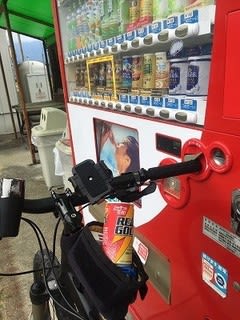 I bought an energy drink can.
I usually plan carefully where I take food and how, but today I failed.
But this energy drink can got me to reach Omachi.
Lunch as planned.
Now I got enough energy to go home, but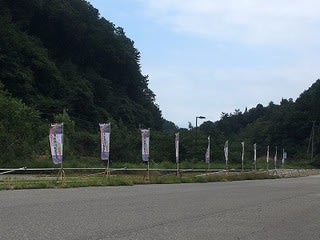 The against wind got stronger and stronger.
I completely exhausted when I came back to Hakuba.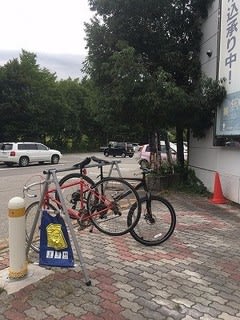 The BIG, a glossary store got a bike stand. It was too small to hang my bike.
120km riding in total was a little tough for me, after the blank.