Ski day 73 at Tateyama
Forced termination of the season.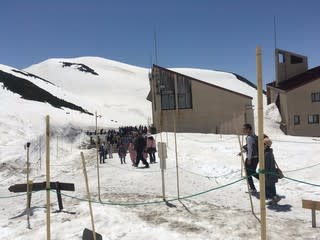 Season Day 73, Powder 39 days, Backcountry 26 days, Telemark 10 days
Tateyama 9:24-12:19
Gear:Teneighty GUN+Dynafit Beast
Distance today 5.3km, climb 439m, duration 3:03, avg speed 1.7km/h, burned 613kcal
Leaving Hakuba at 4:30.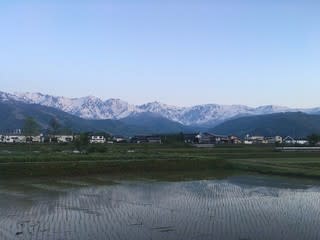 It's already light as the day time becomes longer.
Arriving at Tateyama in 2 hours and a few minutes.
The ticketing queue was already longer.
The tram ticket was designated at 7:50, while we wanted to catch 7:20.
Yukino-ohtani, a deep snow valley.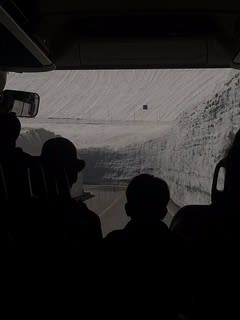 I could not take a picture at the deepest point.
Tateyama, it's been a month since the last time.
The ridges have lost snow.
Climbing to Mt. Jodo in 1 hour, with boots walking for a short distance once.
Going down here.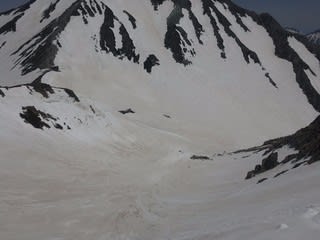 The condition was good, but I fell down and rolled several times with one ski on foot in 50 meters.
I felt my left knee injured, and I could walk up to pick another ski, poles and sunglasses I felt, but I could not make a right turn.
I somehow walk up to Ichinokoshi on climbing skins,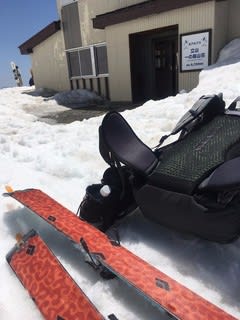 and somehow descent to Murodo.
My skiing mate led me. I lost a prescription lens and I could not see the slope degrees well.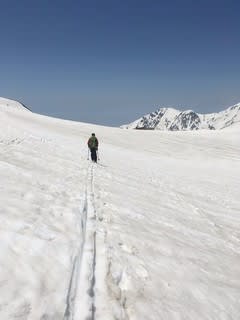 Forced termination. Sorry for early finish.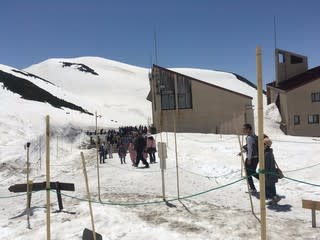 I saw a doctor, and he took MRI today. The diagnosis was anterior cruciate ligament tear.
Season farewell party in Hakuba, which I didn't expect.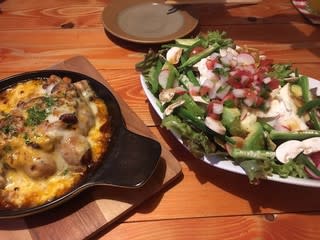 The season ends in 73 days. I wanted more.