Cycling-Day 11-/Ski day 72 at Tsugaike Kogen/Happo One/Hakuba47/Goryu
Hopping around Hakuba ski resorts on MTB.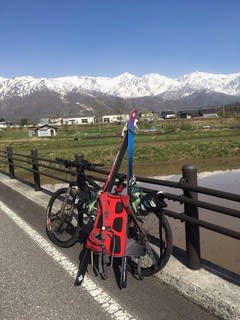 Cycling Day 11, 250 days for cycling, total distance 18,131.1km, total climb 210,857m
Tsugaike Kogen/Happo One/Hakuba47/Goryu 7:50-15:12
Distance today 35.3km, climb 608m, duration 2:16, avg speed 14.0km/h, burned 784kcal
Gear: Specialized Rockhopper Pro
The last day of Golden Week.
All ski resorts in Hakuba close as of today. I went around all three resorts in operation.
An option is to ride on a city bicycle, which allows me to put ski boots in the front basket, but the riding position for all three resorts is not so sufficient.
The other option is to ride on MTB. I have to carry skies and boots on my back, but the riding position is good. Then I chose MTB.
The bridge to Tsugaike. This is the first time to go on this bridge by bicycle.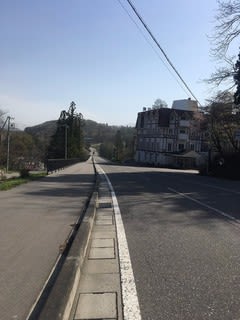 Arriving at 8:27 at Tsugaike, in 40 minutes and the distance was 8.8km.
My powder mate told me the Gondola in Happo was suspended due to the strong wind, but I was happy to see Tsugaike was operational.
Tsugaike Kogen 9:05-9:35
I forgot leaving my bicycle helmet.
Nice weather.
I wanted to go to backcountry skiing but the forecast calls windy and icy ridge, and I had to give up.
Tsuga #2 chairlift as usual.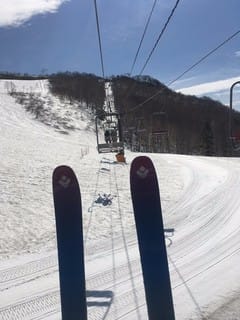 I don't remember how many times to ride on this chairlift, but this is the first time with the normal ski set.
Through Tsuganomori course I skied down on Hannoki.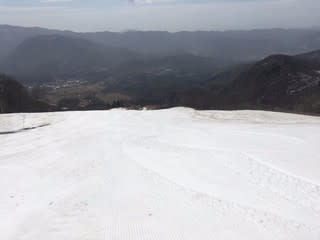 Then I kept going down to the bottom.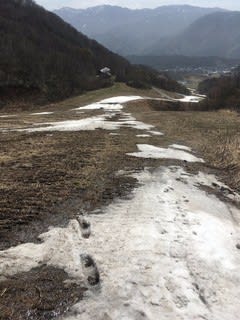 The snow disappeared!, but I expected this. It was a little annoying to walk in mud, but I got a treatment.
Heli skiing was in service today.
I thought it was windy up there.
Leaving Tsugaike at 9:45 on MTB.
Coming to Happo One.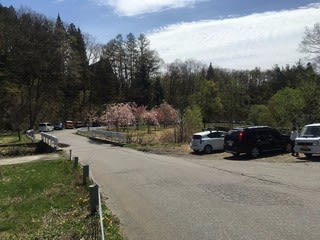 Many cars were parked along the street to the gondola station.
MTB was the good choice.
Arriving at Happo One at 10:20. 17km so far.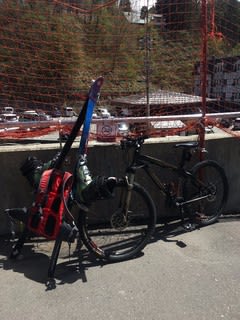 Happo One 10:35-11:35
This will be the last view in this season.
Grat.
Then I skied down to Kurobishi.
I skied three times on bumps,
and down to Skyline.
Very crunchy.
The snow disappeared in upper side,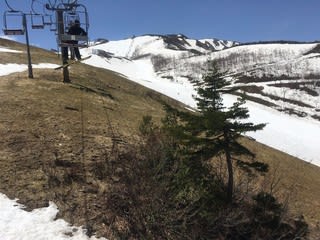 but the course still keeps the snow, which is much different from the last year.
Panorama for the final run.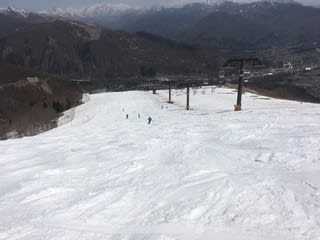 This was also crunchy.
I rode on MTB again and went to Hakuba 47. 7km from Happo, longer than I thought.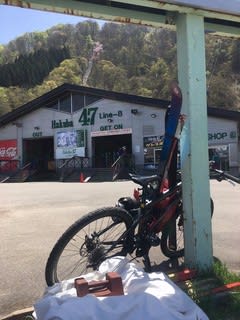 The road to the base area was not so hard, but I was troubled with the strong against wind. It was much harder with skies on my back to against wind.
Hakuba47/Goryu 12:45-13:40
Many learning from this management to keep the snow riding park until the final day.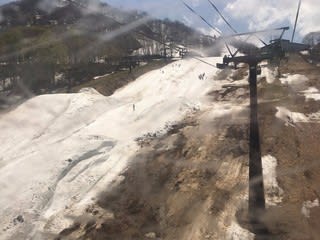 The first run was in Alpsdaira in Goryu area.
Then skied down on the bumps of Route 3.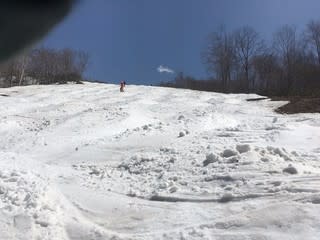 And this is really the final run on Route 1.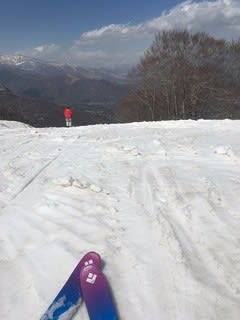 There was some thin part,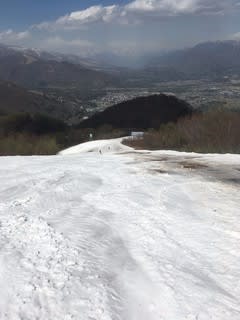 but I could come down to the base.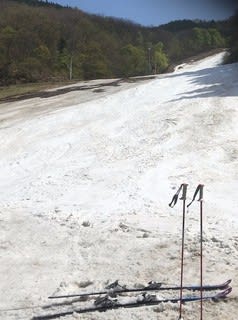 I wanted to eat pizza at Luis,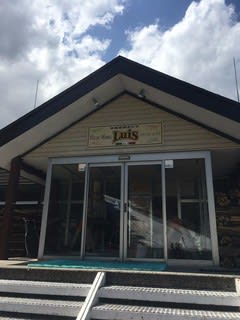 but it was already closed.
Then I went to the cafe as usual.
This is actually my breakfast.
Shijukuin magnolia for the last visit on MTB.
It was hard to ride on MTB over 30km with skies and boots on my back, but it was good ride to hop three ski resorts in Hakuba on the final day.
My ski life still goes on, though.