Cycling-Day 15-Neighborhood
Too fairly good day not to go out.
Day 15, 254 days for cycling, total distance 18,302.6km, total climb 211,529m
Neighborhood 12:28-12:51
Distance today 3.1km, climb 30m, duration 17:55, avg speed 10.4km/h, burned 80kcal
Gear: GIANT DEFY COMPOSITE SE
It's a shame not to go skiing, hiking or riding in such a beautiful day.
Riding to a bakery to buy lunch,
using my right leg only.
The distance is not a problem, but it is annoying to release and fix the right pedal every time I stop at a signal or a stop sign.
Coming to the bakery in neighborhood.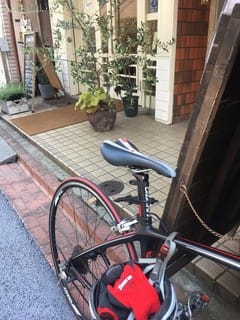 I probably cannot go far for a while with my injured left knee.
Hakuba seems better for riding.