Ski day 30 at Hakuba Hill
BC short tour from home.
Season Day 30, Powder 20 days, Backcountry 8 days, Telemark 1 days
Hakuba Hill 11:06-12:26
Gear:BanYa M1102+Dynafit Beast
Distance today 4.6km, climb 271m, duration 1:20, avg speed 3.4km/h, burned 347kcal
Today we planned a backcountry skiing in Hiyodori but the visibility looks poor. We suspended the tour due to the bad weather.
I was not feeling well and slept again, while my friends went out to the resort.
I got up late and went out for a short trip.
Walking out on my boots and skins from home.
There were up and down trails.
The snow was a little lumpy.
Nice short exercise to the peak.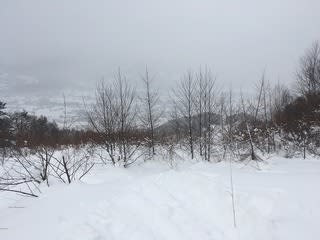 It's been for a while since I was here before, and bushes and trees have grown up.
The skiing was good with the powder snow,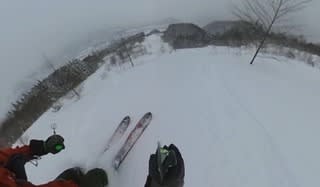 but not worth to climb up again.
Walking home. Got feeling better after the exercise.