Ski day 26 at Charmant Hiuchi
Heading to Charmant again.
Season Day 26, Powder 17 days, Backcountry 7 days, Telemark 1 days
Charmant Hiuchi 8:30-9:50
Gear:BanYa M1102+Dynafit Beast
Official Snow fall 13cm, HiuchiOne 12H 0cm
The depth of the official scales looks few, but it snowed actually. Also the wind blew covered the tracks with the snow.
The queue is as long as yesterday.
The visibility was much better than yesterday, and we could enjoy the runs.
But the clear view allow us to go everywhere. The untracked terrain has gone fast.
Enjoyed skiing until 10 a.m.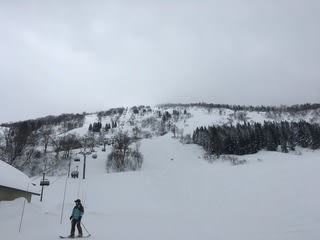 Thanks for the consequent two powder days.