Ski day 24 at Happo One
Pacific Low Pressure brings some snow fall in Hakuba.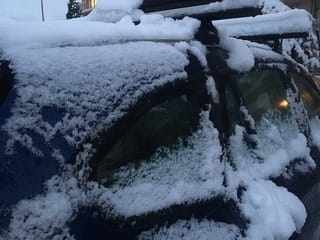 Season Day 24, Powder 15 days, Backcountry 7 days, Telemark 1 days
Happo One 7:30-9:30
Gear:BanYa M1102+Dynafit Beast
Official Snow fall 10cm, Sarukura 12H 8cm
On the last day of national holidays, the gondola lift was not so crowded.
Probably most of junkies considered today is not the day,
meanwhile I brought the fat skies.
And new poles I bought yesterday. I like the beautiful rings.
Alpen quad lift for the first.
The bumps were not covered with the new snow at all.
I descended on the side without gaps.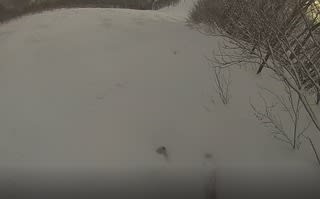 It is powder anyway.
Kurobishi had still large gaps.
I wanted to go down to Skyline but the lift was not operational yet.
I went down on Tanuki and came back to Skyline. The area I come often was good for the powder.
Long queue of Skyline chairlift.
But the powder in Skyline looks gone.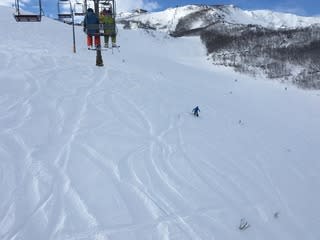 Now the time to leave.
Beautiful blue sky and clouds.
Late breakfast at Sounds Like Cafe.
I came home but it is not a good idea to stay home in such clear weather.
I came back to Happo with Telemark skies.
Happo One 11:00-11:40
Gear:Pocket Rocket(Telemark)+GARMONT ENER-G
The first telemark skiing in the season.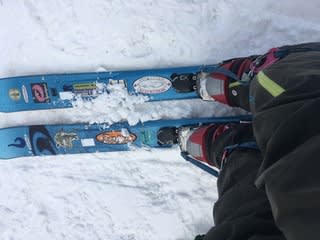 I did one run in Panorama, but the long queuing is not good for me.
The slopes were lumpy.
I changed to Riesen but this slope was also lumpy and crowded.
Better to leave.
It was good for the powder snow in the morning, which I did not expected so much.
But Hakuba needs some bunches of snow.