Ski day 9 at Happo One
Season Day 9, Powder 6 days, Backcountry 2 days, Telemark 0 days
Happo One 8:00-9:25
Gear:Teneighty GUN+SCARPA FREEDOM
Official Snow fall 20cm, Sarukura 12H 16cm
The forecast called the snow fall after the rain yesterday, but we found the depth was not enough.
We go and check it out any way.
A long long cue for the gondola lift.
This is the national holiday.
We did two runs in Tanuki.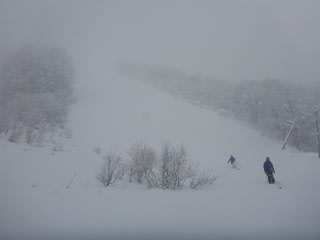 It was much more than we expected.
Seeing is everything.
We went to the secret area after it and finish. Good day.