Ski day 7 at Mt. Hakuba-Norikura
Backcountry powder skiing.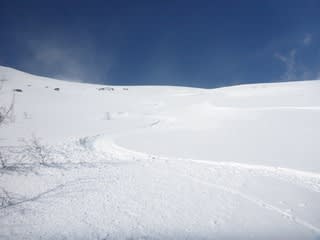 Season Day 7, Powder 5 days, Backcountry 2 days, Telemark 0 days
Mt. Hakuba-Norikura 8:47-11:41
Gear:Teneighty GUN+SCARPA FREEDOM
Distance today 6.8km, climb 771m, duration 2:53, avg speed 2.3km/h, burned 751kcal
Beautiful morgenrot.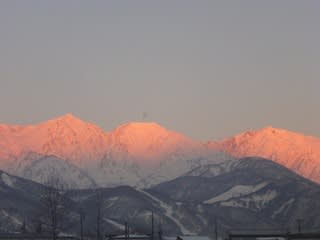 My car got full of frost.
Minus 8 degrees Celsius, but the forecast calls warm weather today.
Walking up on Tsugaike trail.
There were many parties but we walked fast through the parties ahead and reached to the top.
Foot prints of a bear.
We walked carefully.
The snow fall was a little deeper, and the bushes were not buried enough. The walking was hard.
Tenguppara highland in 1 hour half.
It is a little slower due to the obstacles.
We planned to ski down on the main surface of Mt. Hakuba-Norikura-dake,
but the surface was hard packed. We turned to the south face.
Today it took 2 hours 15 minutes to the ridge.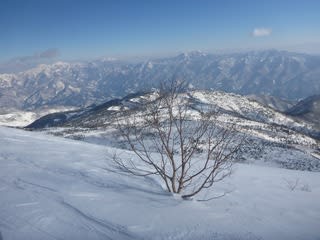 We ski down here.
The slope was nicer than we expected.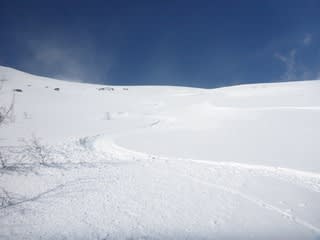 We could climb again, but there were more than 15 people ahead of us. The fresh snow may not remain.
Going back.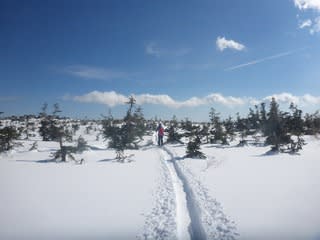 We could go back without any traps.
Lunch at my favorite cafe.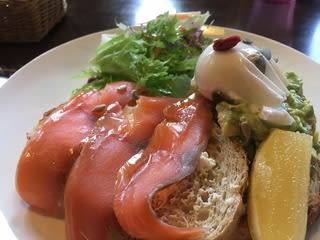 There were more foreign guests than last week.