Trekking-Day 14-Yatsugatake peeks
Enjoyed a great panorama view of Japan Alpine mountains.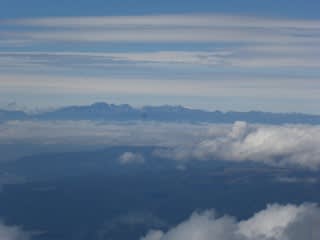 Day 14
Yatsugatake peeks 7:40-15:09
Distance today 17.7km, climb 1,575m, duration 6:49, avg speed 2.6km/h, burned 1,570kcal
Today's route
CAUTION! The duration in this article is due to my experiences and physical strength, and much shorter than the standard course time. Please plan by yourself considering your own experiences and physical strength when you plan to walk the course.
The next day I came back from Taiwan was rainy.
Today the forecast called sunny, and I attempted to go riding on bike.
My mountain mate offered a trekking in Yatsugatake.
Yatsugatake area is very popular for Kanto people but I have never been there.
I got up before 4 am and left Tokyo at 4:15. It was still dark.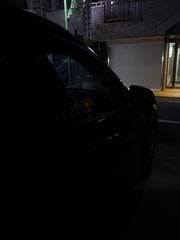 This is the first time to go trekking from Tokyo.
I saw a beautiful Morgenrot of Mt. Akadake from Chuo highway.
We met at Suwa IC at 6:30 am, and drove to the trekking entrance.
The parking lot was full and we had to walk from a little lower place.
Left the car at 7:40.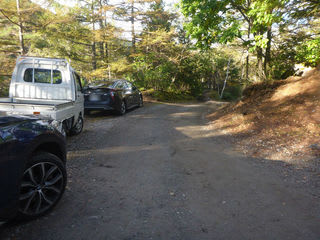 Nice and cool trail.
Reached to Natsuzawa pass in 1 hour,
while the standard duration is 1 hour 45 minutes.
Good to reach to the ridge easily.
It was very cold and windy on the ridge.
It was not too hot to ware a jacket.
I saw frost crystals. It must be below zero degrees in the morning.
Arriving at Mt. Ioh at 9:20,
in 1 hour 40 minutes while the standard duration was 2 hours 50 minutes.
Great panorama view of North, Central and South Japan Alpine mountains.
The mountains in Hakuba.
I always see Yatsugatake mountains from Hakuba. Finally I see other way around.
Mt. Fuji.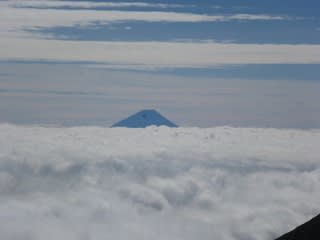 It looks larger from Yatsugatake, as we come closer.
The wind blows stronger and I felt my bold head freezing.
I had to ware the hood.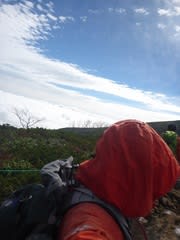 Ice in the puddle.
Beautiful see clouds and Mt. Fuji.
And clear ridge lines of South Japan Alpine with Mt. Kaikomagatake.
I want to visit there next time.
We got a short break at Iohdake hut, and walked on the rocky trail.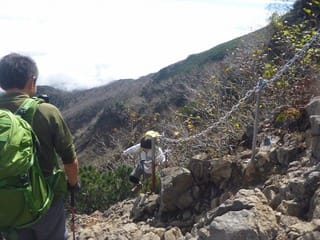 The trail was busy as the popular mountain, and the traffic was busy several times.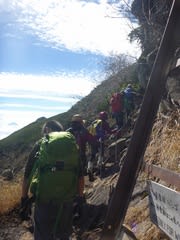 We arrived at Akadake-Tenboso hut, just below the peak of Mt. Akadake, but we found the ridge trail was very busy. We might have to wait for crossing each other.
Then we chose a bypass route.
This trail was less busy, but the steep climbing in the end.
We do not recommend this route to ordinary people.
Arriving at the peak of Akadake at 11:50,
in 4 hours 10 minutes while the starndard duration was 5 hours half.
Our time was not so faster as we had to go through the rocky trail.
The great view of Mt. Yarigatake.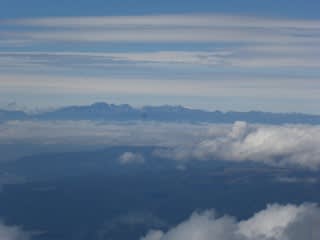 But my mountain mate was afraid of so many people and he went down.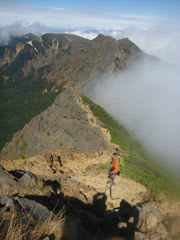 He says the view of people was almost Tokyo.
Nice trail walking.
We enjoyed the good weather in early afternoon.
Mt. Yokodake, we went through on the way as well.
We did not have a chance to take pictures as there were so many people on the way.
Mt. Ioh again.
People were less and that gives us the chance to take pictures.
Keep descending through Natsuzawa pass.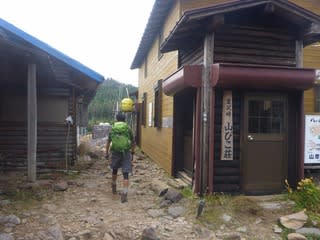 The down trail was comfortable and I did not feel much pain.
Nice walking with 18km, gained elevation 1500m, 7 hours half while the standard duration is 10 hours half.
As we saw the frost crystals and the winter comes closer.
Next month we expect the snowy Tateyama.
I took bath in Suwa and left there at 6pm, but arrived home at 11pm due to the heavy traffic for the national holiday.
The outbound just took 2 hours but inbound took 5 hours.
I usually avoid such heavy traffic, but there was no way to do so this time.
But 5 hours is totally unacceptable.