Cycling-Day 33-Kurobishi
Beautiful view of Hakuba summits.
Day 33, 221 days for cycling, total distance 16,527.1km, total climb 199,940m
Kurobishi 13:32-15:24
Distance today 25.1km, climb 814m, duration 1:44, avg speed 14.5km/h, burned 630kcal
Gear: Specialized Rockhopper Pro
The forecast calls the good weather today.
It was an idea to go to Mt. Karamatsu again, but I attempted to go riding instead.
I could not get up this morning after busy days and slept late.
In the late morning we drove to Kurobishi.
Enjoying the good view again.
Tarte Tatin at Coffee Senjyu.
I wanted to relax in the afternoon, but the good weather brought me out.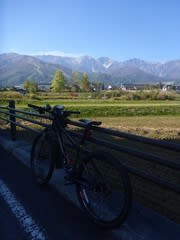 Nice sun lay.
Still beautiful Hakuba summits.
Arriving at Kurobishi in 1 hour 10 minutes.
Good duration for this bike.
But the descent was really cold.