Trekking-Day 8-Mt. Kasagatake (Day 1)
Nice trekking to Mt. Kasagatake.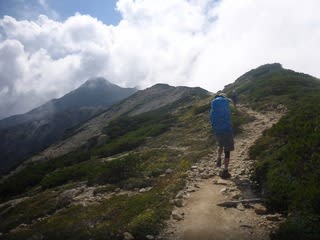 Day 8
Mt. Kasagatake (Day 1) 8:40-16:30
Distance today 11.9km, climb 2,031m, duration 7:12, avg speed 1.7km/h, burned 1,903kcal
CAUTION! The duration in this article is due to my experiences and physical strength, and much shorter than the standard course time. Please plan by yourself considering your own experiences and physical strength when you plan to walk the course.Continued from
The morning in Hakuba.
The rice field is getting colored.
2 hours half driving took us to Shin-Hotaka Onsen.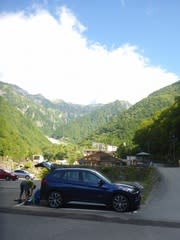 Today we climb to Mt. Kasagatake.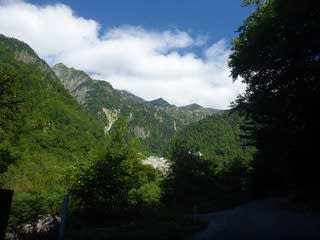 I was very interested in the shape of this mountain and I wanted to come.
Leaving at 8:40.
We have to climb for 1800m elevation from Shin-Hotaka Onsen to Mt. Kasagatake.
The start of the trekking trail at 9:30.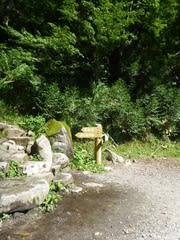 The steep climbing starts here.
Hotaka ridges are always behind us, which encourage us.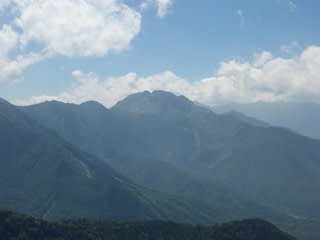 There was a cave at 2000m elevation point.
The cold air brows from the cave, and this gives us the nice place for our break.
Arriving at Shakushidaira at 0:35, in 4 hours while the standard duration is 5 hours 30 minutes.
The trekking will be fun from here.
The grasses are getting colored.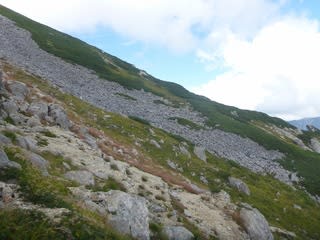 The cross point of Kasa-Shindo at 2 pm.
Nice trekking.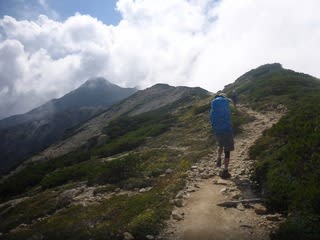 Mt. Kasagatake is beyond the trail.
Nukedo-iwa, or Walking-Through-rock.
Looks like the gateway. We walk through between the rocks.
The fog is coming over the mountain and makes a majestic view.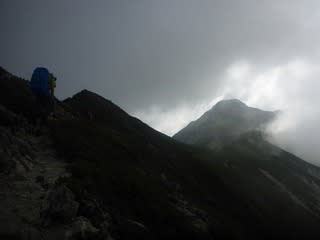 Arriving at the camp site at 2:50 pm, in 6 hours while the standard duration is 9 hours 40 minutes.
We set up the tents first,
and left for the peak.
The camp site does not have any water supply or washrooms, and we have to climb up for 50m elevation to Kasagatake hut.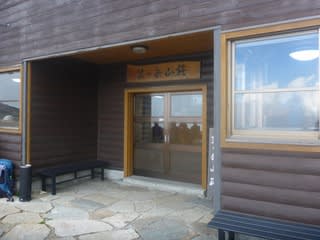 Arriving at the peak. The view is all behind the clouds.
We came back to the camp site and made coffee, and drunk beer.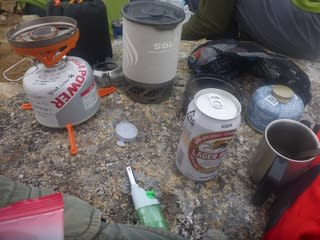 It was a short time but we could see the ridges of Hotaka.
Nice view.
Continue to
Trekking-Day 9-Mt. Kasagatake (Day 2)
.