Trekking-Day 7-Mt. Fudo/Mt. Funakubo(13.9km)
Beautiful sunrise.
Day 7
Mt. Fudo/Mt. Funakubo 6:25-15:40
Distance today 13.9km, climb 1,162m, duration 6:45, avg speed 1.7km/h, burned 2,325kcal
CAUTION! The duration in this article is due to my experiences and physical strength, and much shorter than the standard course time. Please plan by yourself considering your own experiences and physical strength when you plan to walk the course.
Continued from
Trekking-Day 6-Mt. Eboshi
.
Nice weather.
Today we walk straight to Nanakura dam via Mt. Minamisawa, Mt. Fudo and Mt. Funakubo.
Leaving Eboshi hut at 6:25.
The camp site is very organized and comfortable, except many bugs biting.
Mt. Minamisawa and Mt. Fudo beyond Mt. Eboshi.
In the far sight Mt. Shirouma and the ridge line to Mt. Shozu.
I always look at
this ridge line, where I walked all the way two years ago
.
The trail we are walking will be as long as the ridge.
Yakushi kars.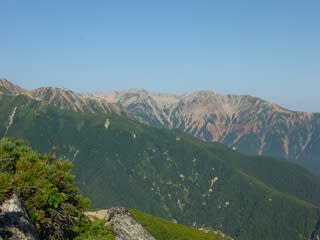 We enjoyed the great panorama with almost all Japan alpine mountains except Mt. Yarigatake and Mt. Hotaka.
Mt. Eboshi with its reflection on the water.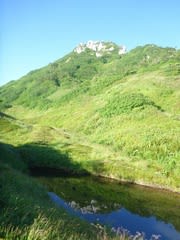 Is this jaws?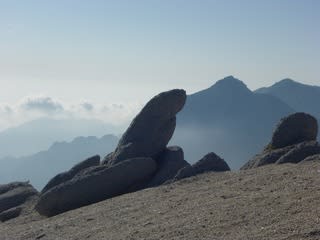 Descending to Mt. Fudo.
We have to walk up and down many times.
The right side is being collapsed, but the trail is well managed.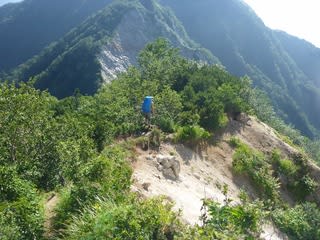 Arriving at Mt. Fudo at 8:30, in 2 hours 5 minutes while the standard duration is 3 hours 10 minutes.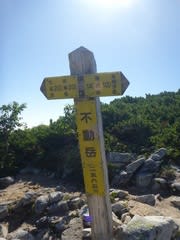 Then we had to walk down to the saddle,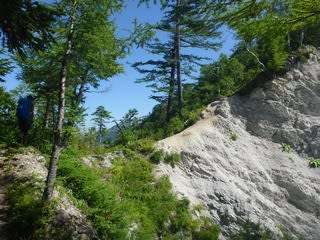 and walk up.
Arriving at the second peak of Mt. Funakubo, at 10:15, in 3 hours 50 minutes while the standard duration is 5 hours.
Takase dam is always in our sight down, and Mt. Yarigatake is coming to our sight.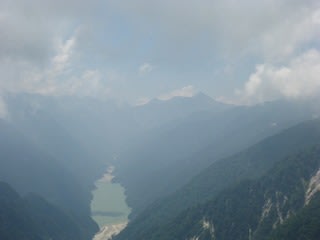 The trail we are walking is surrounding Takase dam.
We walked up and down again, and coming to the saddle.
Mt. Funakubo. This does not look like the peak.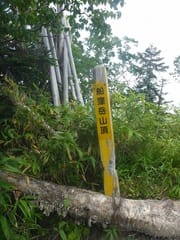 Arriving at the cross point of Funakubo-Nokkoshi at 11:40 in 5 hours 15 minutes while the standard duration is 6 hours.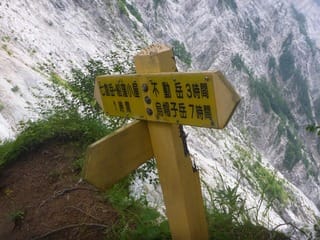 Arriving at Funakubo hut at 12:30.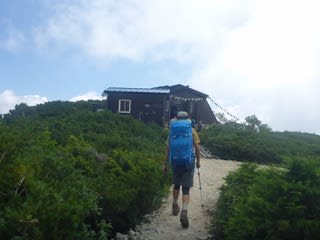 The ridge we walked through.
Walking down to Nanakura dam.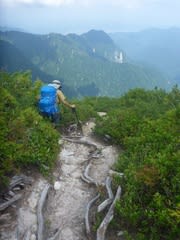 The trail was nice at the beginning, but the rest was boring with the same view.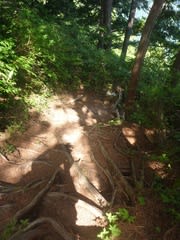 The wood roots are slippery and not easy to walk down.
Arriving at Nanakura dam at 15:40, in 2 hours 40 minutes from Funakubo hut.
It was a long long trail, killing my legs.