Cycling-Day 20-Doshi-Michi Road/Yamanakako Lake(198.6km)
To Yamanakako lake.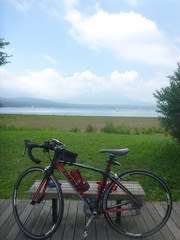 Day 20, 208 days for cycling, total distance 16,060.0km, total climb 196,856m
Doshi-Michi Road/Yamanakako Lake 5:00-16:47
Distance today 198.6km, climb 1,594m, duration 9:37, avg speed 20.6km/h, burned 4,148kcal
Gear: GIANT DEFY COMPOSITE SE
Yamanakako Lake, many collage students use this place for summer camps. I also stayed here for my summer camp when I was a collage student.
Route 413, AKA "Doshi-Michi Road", is a back road to the lake and also known as a hill climbing road for bike riders.
I should try this road.
I got up at 4:30 a.m. and started at 5 a.m.
Entering to Tamagawa Cycling Road in 35 minutes,
and reached to Sekido-bashi bridge in 1 hour 10 minutes, to Tama-Center Street.
Tama Center Street leads to Machida Street, and finally I reached to Route 413 in Hashimoto in 2 hours.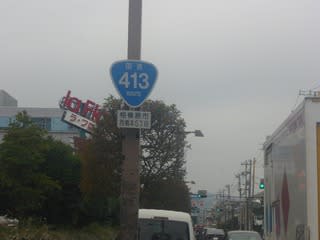 Arriving at Shiroyama dam at 7:40, in 2 hours 40 minutes, 50km so far.
The route gets ascending.
Route 413 turns twice at the beginning. I missed a cross point.
The highest point of this road in Kanagawa Prefecture at 8:40, 1 hour from Shiroyama dam.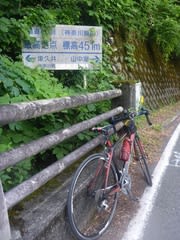 The elevation is 451m, but it is not enough at all. The highest point of the entire road is at 1,100m, that I have to climb up.
I descent a little from here, and crossed the border between Kanagawa Prefecture and Yamanashi Prefecture.
Arriving at Kubo suspension bridge at 9:10, 1 hour half from Shiroyama dam.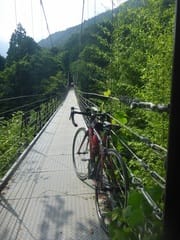 Many bike riders take photos with their bikes like this.
The road becomes flatter.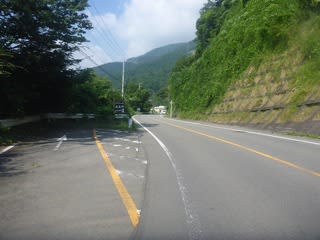 Arriving at Michi-no-eki, Road Station Doushi, at 9:45, in 2 hours from Shiroyama dam.
This is the last aid station to the highest point. I bough a bottle of drink and took a short break.
It is still before 10 a.m. but the station became crowded.
Finally arriving at Yamabushi pass, the highest point at 10:33, in 2 hours 50 minutes from Shiroyama dam.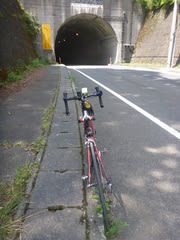 I thought the pass would be 3-4km further.
Descending to Yamanakako lake.
The road was full of cars in the summer vacation season.
I can run through on my bike.
Yamanakako lake.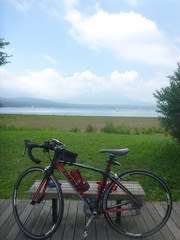 Arriving at 11 a.m., 100km from my home in 6 hours.
Mt. Fuji is behind the clouds.
But the peak appeared through the clouds.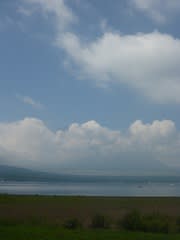 I just return without visiting anywhere.
Yamabushi pass again, at 11:30.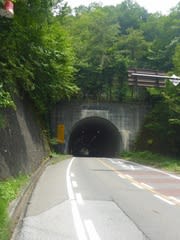 I just go descending all the way.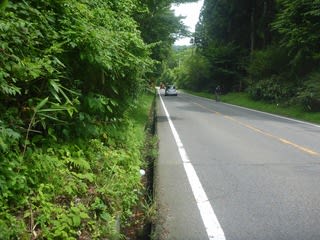 Returning at Michi-no-eki Doshi station at 11:50. Descending needs only 20 minutes.
The station got more crowded than 1 hour half ago.
I took a short break with some foods.
It got hotter as I descend.
It was not so hot when I ascent. I recommend to climb here in earlier time.
I saw many bike riders ascending on the way back but they look hard.
Arriving at the highest point of this road in Kanagawa again, at 1 p.m.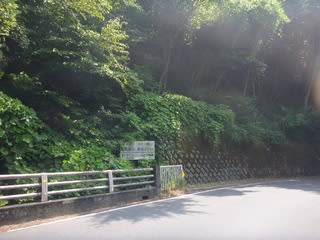 The duration looks same between ascending to the station and descending from the station.
Came back to Shiroyama dam at 1:45 p.m.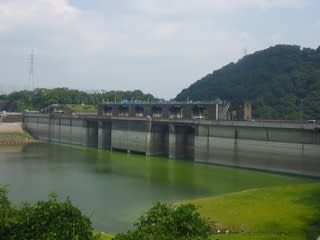 The same road leads to Sekido-bashi bridge at 3:12 p.m.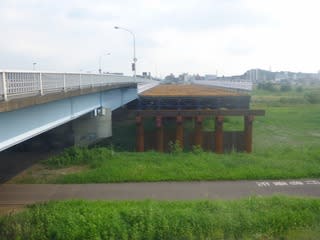 I saw these chairs the day before yesterday.
Came back home at 4:47 p.m. It was still in day light.
I thought this road would be tougher than Hakone, but it was actually easier.
The elevation is higher, but the slope is more gentle.