Cycling-Day 6-Tama River(98.6km)
Day 6, 194 days for cycling, total distance 14,647.3km, total climb 189,203m
Tama River 9:30-14:10
Distance today 98.6km, climb 145m, duration 4:19, avg speed 22.8km/h, burned 2,129kcal
Gear: Eurasia 520
I really wanted to go skiing this weekend, but I could not due to the stomachache Friday.
I took a rest Saturday and recovered.
Now I got a ride Sunday.
Going to the North at Marukobashi bridge.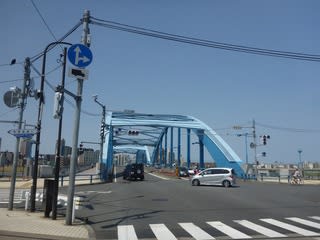 Tama River is getting busy later time.
It is not easy to pass through in Fuchu city, and I had to go and stop.
Arrived in Hamura dam in 2 hours 8 minutes.
Today I got something to do and I had to return right away.
I wanted to eat a hamburger at Komazawa on the way back, but it was really crowded.
I had to go home without eating anything.