Ski day 37 at HappoOne
Season Day 37, Powder 25 days, Backcountry 18 days, Telemark 2 days
Happo One 12:45-14:10
It was raining in the morning. The snow fall in Hakuba was few, and the weather looks worse in the mountain.
I woke up late and went to a sampling event in Happo.
I went there without ski sets.
The first one was OGASAKA KEO's KS-LS.
Easy to control, but 110k JPY is expensive.
VOLKL 100 Eight. This must be powder fat skies but it was good to control on the rough slopes.
Liberty Genesis. A little bumpy on the rough slopes.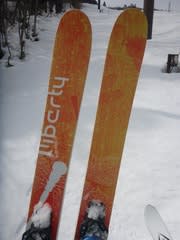 Liberty Origin. This is designed with enough replusion, and easier to control than the last one.
HEAD SUPERSHAPE i Speed.
I am using i Magnum. I don't see the difference.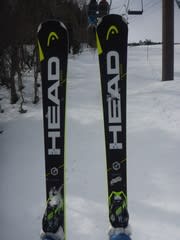 Therefore, there is no reason to replace.
VOLKL Platinum SW Speedwall.
Easy to control.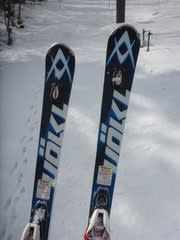 This sampling was 159cm length, too short for me though.
VOLKL Platinum GD Speedwall. This is designed for giant slalom.
Indeed, good for high speed running.
I wanted to try as many skies as possible and I repeated on the chair lift in Nakiyama only, but it gets boring.
Then I borrowed VOLKL 100 Eight again, and went up Riesen.
The upper lifts are closed.
Riesen was rough but I enjoyed in high speed.
It was only an hour and half but it was good to try sampling.