Ski day 22 at Happo BC
The best powder in the season.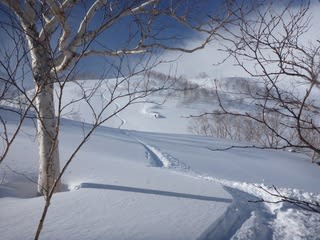 Season Day 22, Powder 14 days, Backcountry 12 days, Telemark 2 days
Happo BC 9:15-14:15
Gear:BanYa M1102+SCARPA FREEDOM
Today BanYa called a tour at Happo.
It started snowing during on Riesen quad, and we worried about the poor visibility.
And we found the strong wind at Happo-ike hut.
We waited for the cease of the wind.
Started the tour at 9:15.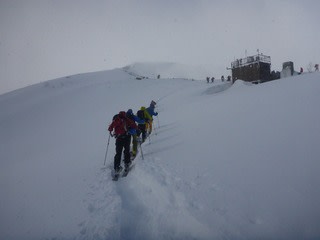 Climbed up here in the strong wind.
Now we descend.
The terrain was calm and the powder was not destroyed by the wind.
Great powder!
Probably the best powder riding in the season.
Keep descending in the powder.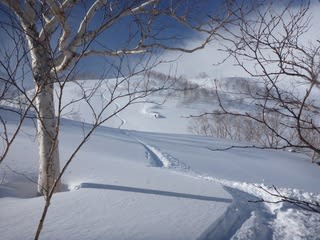 We enjoyed after all.
How luxury it is to run such a long distance!
Traverse to the ridge.
And climb up.
We descend on this face next.
This was also fantastic.
This terrain was done by many parties,
but there was still powder snow.
And the final event.
I did not get wet this time.
Thanks for the great powder tour.
Charcoal Yakitori for dinner.