Ski day 4 at Hakuba
Season Day 4, Powder 4 days, Backcountry 3 days, Telemark 0 days
Hakuba 9:15-11:30
Gear:BanYa M1102+SCARPA FREEDOM
A long line for the gondola lift.
Today we attempted a hike to Happo-ike, but the fog was too thick.
We stayed at Usagi-Daira terrace for the clear view.
One hour later the visibility got better, but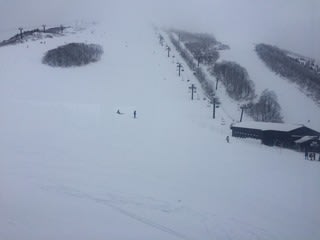 still not enough in the higher place.
We gave up and went down.
The activity today was just one run for the Alpen quad.
I visited a cafe and I heard the higher area was above the clouds at the time. Oh dear....