Ski day 1 at Hakuba
Season Day 1, Powder 1 days, Backcountry 1 days, Telemark 0 days
Hakuba 9:15-11:30
Gear:Teneighty GUN+SCARPA FREEDOM
Distance today 5.0km, climb 700m, duration 2:15
We attempted a tour in Tateyama for the beginning in the season, but we couldn't do it for too less snow.
However we got the snow yesterday and we did skiing backcountry in Hakuba.
Good to see the snow again.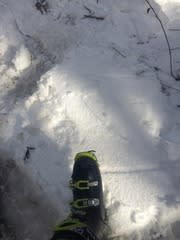 Now we are ascending.
It looks like in the middle of the season for walking in the deep snow.
Two terminators dragged me up,
and we did 700m ascension.
Looks good.
Let's go now.
Good powder!
And this is also the beginning of the season at a cafe.