Trip in Europe -day 6- Nantes
Continued from
Trip in Europe -day 5- Nantes
.
The work carries on today as well.
We worked hard until the evening.
I was dropped off at Nantes station.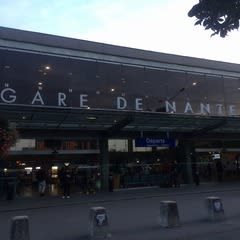 A tram.
I am leaving Nantes to Rennes.
I bought a first class ticket but the second class was also vacant.
I arrived at Rennes before 9pm. I joined to my wife and her friend, and had dinner at the hotel.
Continued to
Trip in Europe -day 7- Cancale/ST Malo
.