Trip in Europe -day 4- Paris
http://yodaman-myfavorite.blogspot.pt/2015/10/trip-in-europe-day-2-barcelona.html Continued from
Trip in Europe -day 3- Barcelona/Paris
.
We woke up late in Sunday morning.
Walking around the market n neighborhood.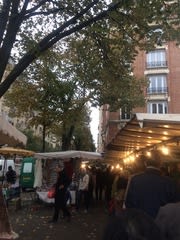 Buying food for the breakfast and the dinner.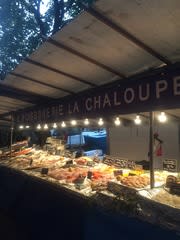 Enjoying to look around.
Usually it is a fun to look around but it is a shame not to buy.
This time we stay in an apartment and have an opportunity to enjoy them.
After the late breakfast, or brunch, we went out again.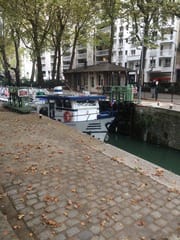 We could a boat moving between different water level at Canal St-Martin.
We went to La Chocolaterie de Jacques Génin, a chocolatier we visited
two years ago
.
The cafe was very busy and we had to wait almost two hours.
Mille feuille, the one we wanted, was sold out.
Chocolate torte was still available.
It was already dark when we left the cafe.
For the last event we went to the Effel Tower.
They light up with sizzling lights like champagne at every hour on the hour.
We enjoyed the dinner at the apartment with the food we bought at the market.
Continued to
Trip in Europe -day 5- Nantes
.