Trip in Europe -day 12- Geneva
Continued from
Trip in Europe -day 11- Lisbon/Geneva
.
Today I got a work to do. I went to Lausanne by train.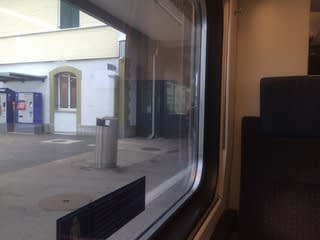 From Geneva to Lausanne I see mountains on the left and Lake Geneva on the right.
There is a similar place in Japan, called "Suwa" but the people look very wealthy.
Passengers next to me were talking about the macro economics. They seem researcher of an international organization.
Lausanne station.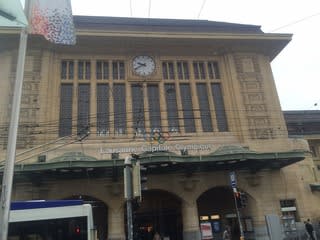 I finished the meeting at noon, and walk down to the station.
Nice pavement.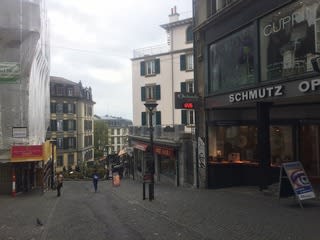 The train I got on the way back was IC, an express.
I saw the sign of a restaurant car and went go there.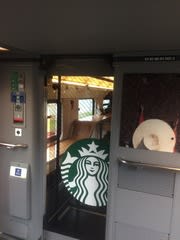 The restaurant was actually Starbucks.
I went straight to the airport to pick my bag I left last night.
Good to see it again.
I went back to the hotel and came out again for a walk.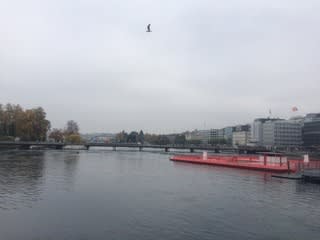 This is my late lunch, at Globus, a department store.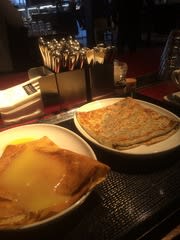 Good taste, especially the back one with Chocolate.
Cathédrale Saint-Pierre.
A famous sight seeing spot in Geneva is a big fountain, but...
hmmmmm.
It looks like the annual maintenance from today.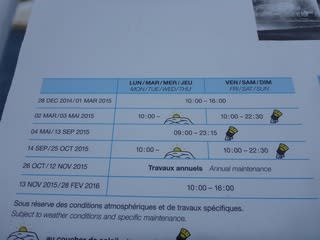 How unlucky I am, although I could not expect so much as I come for a work.
A fountain in the park as a compromise.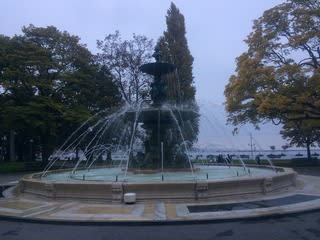 Then we go shopping for the last souvenirs.
We went out for dinner.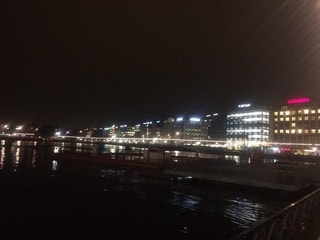 Les Armures, a traditional restaurant in neighbor of Cathédrale Saint-Pierre.
This is famous for its cheese fondue.
When I opened the door, we smell some characteristic cheese.
To be honest I am not good at the strong smell of a certain cheese.
I drank wines to paralyze my nose.
This is for one person but it was enough for two of us. We also ordered Salad.
The pavement has some ground lights.
The lights have some words in many languages.
Here is a Chinese one but there is no Japanese one.
Zai-jian (Good bye).
Continued to
Trip in Europe -day 13- Geneva/Returning