Trip in Europe -day 11- Lisbon/Geneva
Continued from
Trip in Europe -day 10- Sintra/Cabo da Roca
.
The last day in Lisbon. We visited Terreiro do Paço before the flight.
This place could be the first place to visit, but we did for the last.
It is raining.
Also there was an athletic event and the building does not look like the mid age.
The event looks like a running event.
We came back right away.
We checked out the hotel at noon, and went to the airport.
The snack on the flight was egg torte from Lisbon to Paris.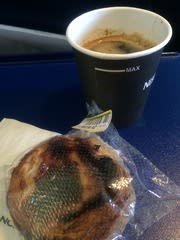 We transit the flight at Paris to Geneva.
It would be a simple connection but I need VAT refund in Paris as we are leaving EU.
The VAT refund window is in the arrival hall and I had to go out the security with the goods we bought.
After the VAT refund procedure I needed to go through the security check again.
We had 1 hour for the connection but I had to spend almost 1 hour for the procedure.
It would be processed in Lisbon, as Paris was just for our transit.
And the VAT refund window is located in the arrival hall. VAT refund is supposed to be done just before the departure. Why the window is located in the arrival hall???
We arrived in Geneva at night and moved to the hotel.
Then I realized I left a baggage on the turn table at the airport.
I was always currying the bag all the time but I checked it in Lisbon to mitigate the weight limit.
I bought a new one in Lisbon after the security, and I just believed I would carry the bag with me!
Geneva station at night. I go back to the airport to pick it up.
I was lucky that the airport is just one stop away from Geneva station in 10 minutes riding.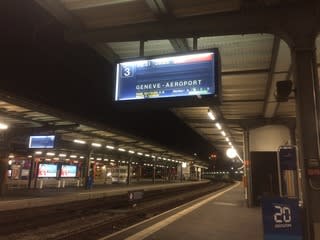 Continued to
Trip in Europe -day 12- Geneva
.