Trip in Europe -day 1- Barcelona
Visiting Barcelona for my business trip.
I could not finish my work and was checking email at the airline lounge with late dinner.
I completely slept in the plane to Frankfurt.
The security check took my wire chain for my bike riding at Frankfurt.
I brought it for locking my briefcase for my security at the hotel rooms, but they say there is a risk of strangle.
It is a shame that I used the chain for my bike riding for a long time.
Arriving in Barcelona in early morning and we checked in the room for extra pay.
This is the forth time in Spain after our visit in Costa del Sol in 2005, and it's been 13 years since we visited in Barcelona in 2002.
Quick lunch at a bar.
We found the place we used to come.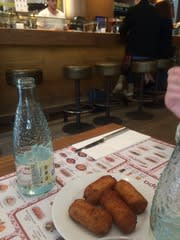 Tapa Tapa in Avenida de Gracia.
It is a shame I cannot drink beer.
We walk up to La Pedrera, a work of Gaudi.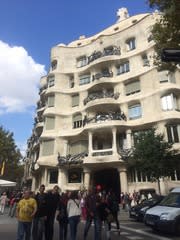 The cue was long for ticketing. We will come later after booking on line.
I got a work in the afternoon, and now finally the time for drink.
Txapela, in avenida de Gracia.
Continued to
Trip in Europe -day 2- Barcelona
.