Walking-Day 2-Ramen Jiro(14.5km)
Day 2
Ramen Jiro 11:51-15:40
Distance today 14.5km, climb 173m, duration 3:49, avg speed 5.9km/h, burned 618kcal
The rain in the morning stopped, and the blue sky comes.
But I went out for walking instead of cycling, as the forecast calls sudden shower.
Today I walked to Ramen Jiro, a famous Ramen store in Mita.
I arrived there in 1 hour 5 minutes in a good pace.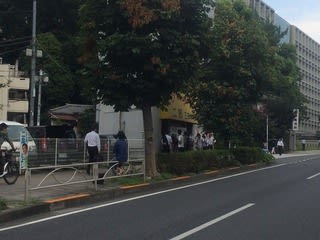 Ramen Jiro is one of the most famous ramen stores in Japan, located in front of Keio university.
Some of the graduates become 'juncky' of this ramen.
I have been there before, but it is a couple of dedicates ago.
The cue was not so long today.
In 15 minutes now I could have the one.
but this volume was too tough to conquer.
After ramen I went to Keio university campus.
And went home.
I heard the sound of thunder and looked back.
Thick clouds are chasing after me.
I could went home with out raining.
I thought the walking is a good excuse for eating Ramen Jiro, but it was still heavy enough.