Trekking-Day 2-Mt. Karamatsu(10.3km)
An exercise to Mt. Karamatsu as usual.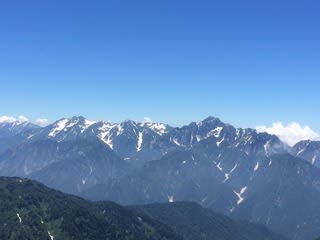 Day 2 Mt. Karamatsu 9:50-15:00
Distance today 10.3km, climb 1,330m, duration 5:10, avg speed 3.5km/h, burned 1,126kcal
CAUTION! The duration in this article is due to my experiences and physical strength, and much shorter than the standard course time. Please plan by yourself considering your own experiences and physical strength when you plan to walk the course.
My trekking season is approaching. I have to do some exercise to prepare for heavy trekking tours in the near future.
Mt. Karamatsu, I know very well, is the good destination for my exercise.
Kurobishi parking lot was almost full.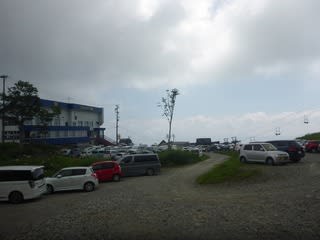 Leaving Happoike hut at 9:50.
Today we started late, and walked in slow pace.
Reached to Happoike lake in 30 minutes.
Good view of reflecting Hakuba summits seemed coming, and we were waiting for a while.
The view was not perfect, but this is beautiful enough.
Ougi sekkei snow valley in 1 hour 20 minutes.
The pace was slower for the cue, and arrived at the Karamatsu hut in 2 hours.
And at the peak in 2 hours 10 minutes.
The pace was eventually as usual, with the break at Happoike lake.
We enjoyed the view of Mt. Tsurugi, and Mt. Yakushi where we skied in this spring.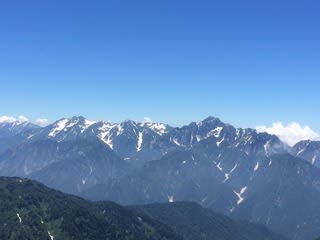 It is not usual to see mountains at noon in the summer.
We stayed for an hour in the nice breeze.
Slowly descending.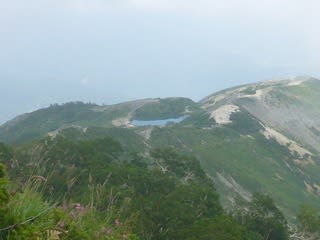 Happoike lake.
Hakuba village looks nicely sunny, and really hot.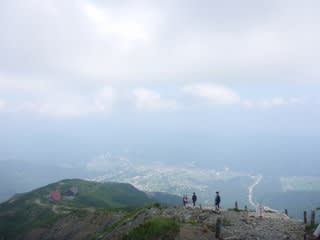 Then we slowed down to go back. It took 2 hours for descending.
Good resort trekking in the hot summer and good exercising for my trekking season.