Trekking-Day 1-Mt. Amakazari(8.0km)
Trekking with Chris-san's family.
Day 1 Mt. Amakazari 8:46-16:06
Distance today 8.0km, climb 948m, duration 8:0, avg speed 1.5km/h, burned 851kcal
Today's route
Today we went trekking with Chris followed by the MTB riding yesterday.
His wife Merrill joined us today.
This will be the last activity in Japan for them before they leave Japan to the US.
The snow still remains in higher mountains which require crampons. We chose Mt. Amakazari, for easy accessing.
The parking lot at the camp site has just been opened yesterday.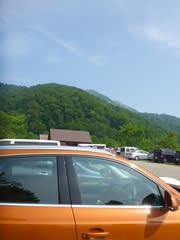 The parking lot has almost been full.
We left there at 8:46.
Skunk cabbage flower, as a typical one in this season.
The snow still remains on the trail.
We could manage walking without crampons.
After crossing the snow valley we reached to the steep trail.
And finally we climbed on the ladder.
We reached to the ridge at 12 pm, for three hours in slower pace.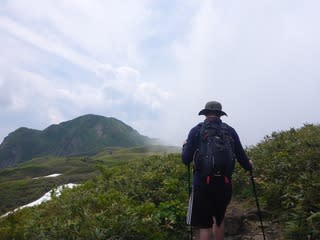 We took a long break for lunch just before the peak, and arrived at the peak at 1 pm.
Today it was cloudy and the view was not so good,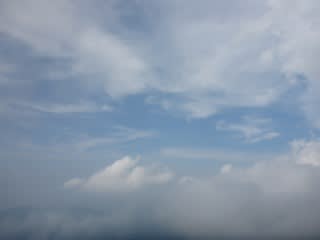 The shape of the clouds is beautiful.
Now we started walking back.
This looks like the train in a hanging garden.
Walking down on the ladder.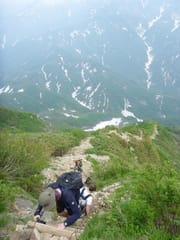 It is steep.
We walked down on the snow valley carefully.
Arrived at the start point at 4 pm.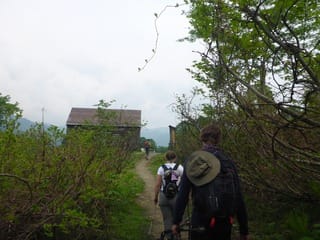 Good work.
The forecast called some showers at noon, but it was good it didn't.
We hope Chris's family enjoyed the last activities in Japan.