Ski day 72 at Mt. Yari
Our tradition, Mt. Hakuba-Yari's dynamic slope.
Season Day 72, Powder 36 days, Backcountry 23 days, Telemark 13 days
Mt. Yari 7:20-15:45
Gear:Teneighty GUN+SCARPA FREEDOM
Distance today 12.5km, climb 2,012m, duration 10:0, avg speed 1.5km/h, burned 890kcal
Today's route
Our season is almost ending.
Today we went to Mt. Hakuba-Yarigatake. As our tradition, we want to go once in a year.
At 7:20, leaving Sarukura.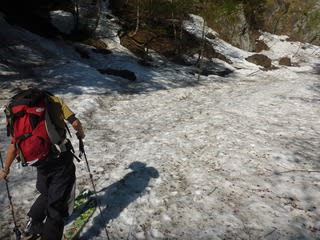 The parking lot was almost full.
The snow looked remaining from the parking lot,
but it ends.
We had to walk on the summer trails carrying our skies to Sarukura daichi highland.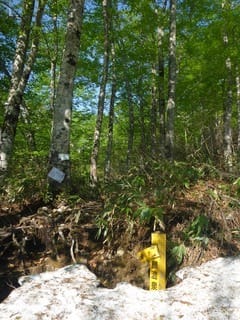 Changed to climbing skins at Sarukura daichi highland.
Arrived at Obinata saddle at 9:00. 1 hours 40 minutes so far, a little longer as we had to carry ski sets.
The snow is disappearing, but we can ski down anyway.
What deep runners are!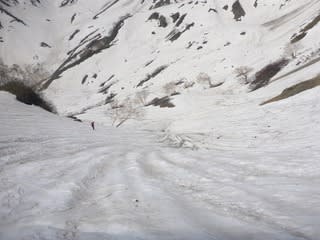 Some of them are deeper than Usagi bumps.
Arrived at 10:14 at Yari Onsen.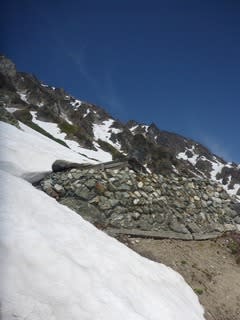 We left unnecessary stuff and keep going up.
Oideppara has less snow, and we could not walk straight to the ridge.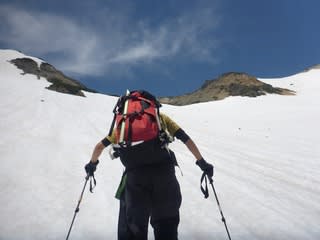 It was hard to climb, as we had to walk on the snow remaining, no matter how the slope is.
The snow ends just under the ridge.
We walk from here on the summer trails, at 11:55.
It was very windy, and the wind blew our skies on our back.
Arrived at 12:54 at the peak of Mt. Hakuba-Yarigatake.
It's been 8 month since
the summer trekking last September
.
Mt. Tsurugi.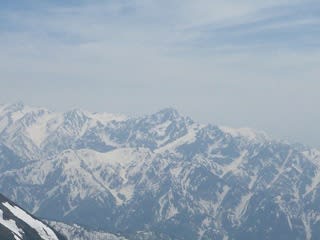 Now we go skiing down, but
The snow disappeared at the peak.
We walked down around 20m, and found the snow extends to the valley.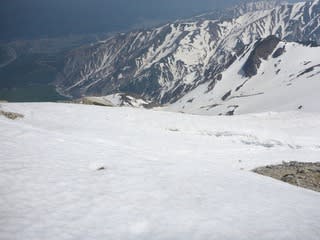 Here we go now, on the great slope under Mt. Hakuba-Yarigatake.
We enjoyed the dynamic slope.
The runnels we worried were not so much, and the slope had the perfect film crust.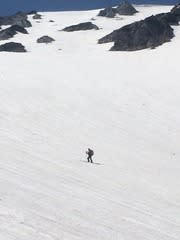 The valley to Yari-Onsen did not have debris so much.
But there are many stones under the snow, and we hit the skies many times. We got many scratches.
Arrived at 13:30 at Yari-Onsen.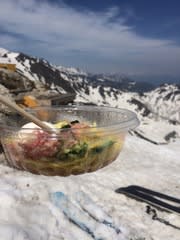 Now it's lunch time.
My noodle looked blew away, and someone put it into my friend's stuff bag. Thank you, someone!
This side was covered with the huge
snow wall a month ago.
Today the hot water was perfect. We did not have to cool down with the snow.
Beer after the Onsen, or hot spa.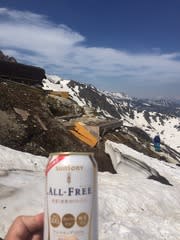 It is non-alcohol, though as we have to drive.
Leaving the Onsen at 14:25.
We avoided the runnels as much as possible.
Annoying climbing to Obinata saddle.
And annoying deep runnels.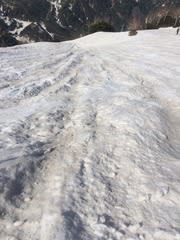 At Sarukura daichi highland.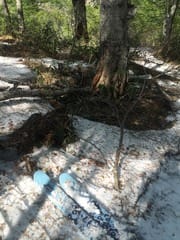 The snow remains further, but we finished skiing down here, as the skiing looks annoying.
Then we walk down with the skies on our back.
Returned at 15:45.
Today we did not expect any good skiing, but the film crust great slope was much more than we expected.
This will be the last skiing, and we could close the season with the good memories.