Ski day 71 at Mayakubo valley
Quick climbing in 3 hours and enjoyed the great film crust snow.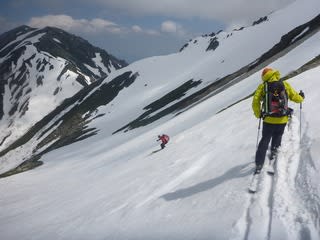 Season Day 71, Powder 36 days, Backcountry 23 days, Telemark 13 days
Mayakubo valley 10:30-14:40
Gear:Teneighty GUN+SCARPA FREEDOM
Distance today 9.0km, climb 1,275m, duration 4:10
Today we attempted Mt. Harinoki again with HTR-san.
At 9 a.m. we arrived at the Ogizawa parking lot. And then I found I left my radio receiver at home.
The mates leave first, and I had to go home to bring it.
At 10:30, now I leave, 1 hour and half behind my mates.
I reached to the snow end in 25 minutes.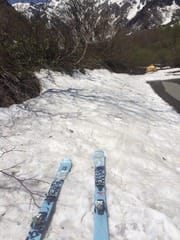 I put climbing skins and keep walking.
Reached to Osawa hut in 1 hour.
It's a usual pace and I wonder if I can catch up with my mates.
Today it is very windy and we cannot to reach to the peak.
Probably I cannot ski down on the good slope just under the peak.
This fact discourages me to climb up.
Reached to the branch of Harinoki valley and Mayakubo valley in 2 hours at 2250m height.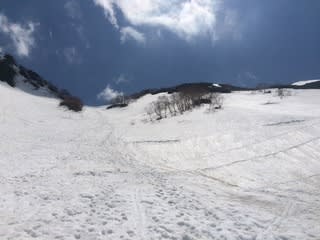 I have climbed up in 800m so far.
I cannot find the mates ahead of me yet.
I could wait for them here, but it would be very cold to wait for them in the strong winds.
Mayakubo valley looks good with the perfect film crust.
I may stop climbing and ski down when I see my mates skiing down.
Then I keep climbing up.
I passed through the steep slope of Mayakubo valley and found the mates on the ridge.
Now I realize I can make it.
I met my mate at the ridge at 13:40.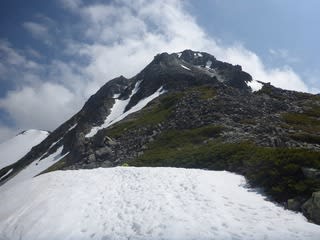 I climbed in 1275m in 3 hours 10 minutes without break. Good work.
The thick clouds are approaching from the West.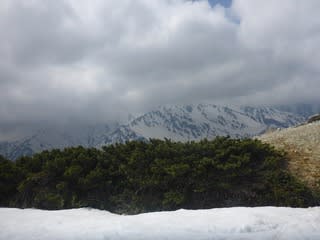 Now here we go.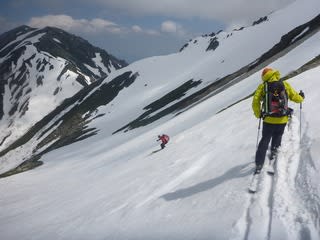 Looks good.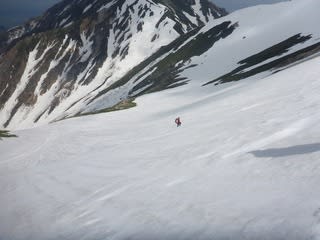 We enjoyed the great film crust.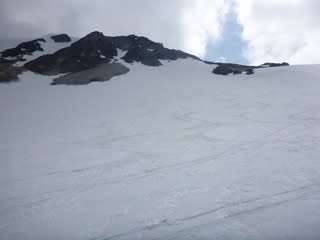 I am happy now that I did not give up and could make it.
Keep skiing down.
The rest are not better than the upper side,
but it is still good enough.
Looking back at Mt. Harinoki.
The clouds are approaching.
We did at the best time.