Ski day 69 at Mt. Harinoki
Enjoyed the great slope.
Season Day 69, Powder 36 days, Backcountry 22 days, Telemark 13 days
Mt. Harinoki 8:00-13:45
Gear:Teneighty GUN+SCARPA FREEDOM
Distance today 9.5km, climb 1,324m, duration 5:45
In this Golden Week there are many voices that there are many runnels, or the snow has gone on the ridge in mountains.
This season had a lot of snow, and I expected the longer season, but the end seems approaching very soon.
We heard there are fewer runnels in Harinoki snow valley, and we tried there today.
Nice weather in Hakuba.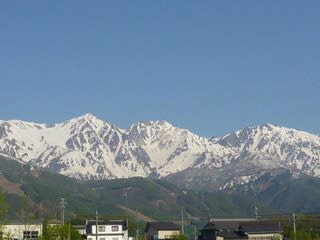 Ougizawa parking lot. Today is the last day of the Golden Week, and cars are parked less.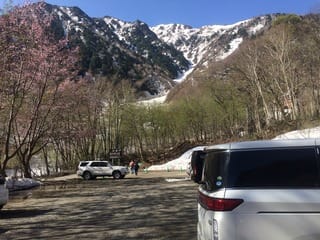 We planned to go there yesterday, but the parking lot seemed full. That's why we come here today.
Leaving the parking lot at 8 a.m.
In 30 minutes walk we reached to the snow.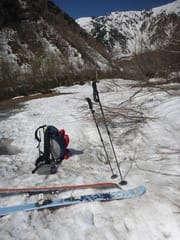 At the last tour to Mt. Yakushi three days ago
, my climbing skins Colltex CT40 got damaged.
I bought a new one of Black Diamond.
I didn't want to use it on the dirty snow, but this is what we use for.
Walking to Mt. Harinoki.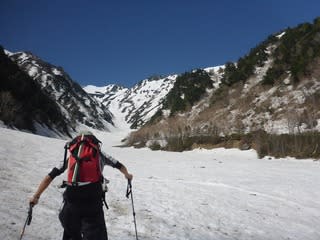 It was good with nice breeze, but it got hot as the valley turns to the South.
The snow disappeared under Mt. Harinoki.
Hard to climb there.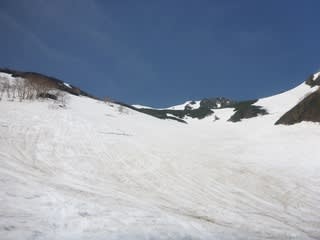 We keep walking on the snow valley to the ridge, instead of directly climbing to the peak.
Arrived at Harinoki hut at 11:25.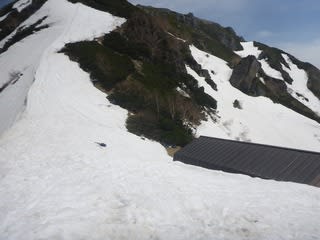 The new skins worked very well and reliable to come here.
Keep walking on the ridge.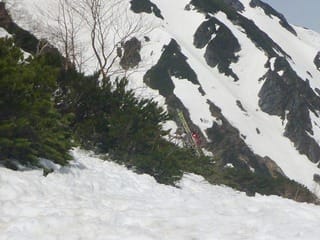 Today we did not go to the peak, but to the next one.
We could see Mt. Yakushi in front of us,
where we skied three days ago
.
Mt. Yakushi is just above my thumb.
Bold head of Mt. Noguchi-Goro (Noguchi Goro is also the name of a star singer).
We could see many mountains in Japan Northern Alps, and we could hardly leave here.
At 13:00 we skied down.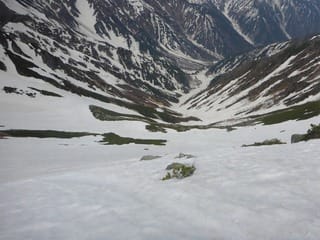 The slope looks good. No runnels.
We enjoyed the great slope.
The lower part also looks good.
There were many debris here and it was very hard to ski down a year ago
.
This time we could ski smoothly. This is better than skiing in Tsugaike.
At 13:35 we reached to the end of the snow.
Annoying walk on the trail a little,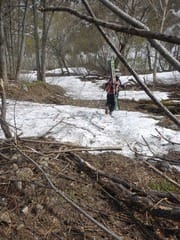 then returned to Ougizawa at 13:45.
It's a shame that Harinoki requires four hours walk and gives us only an hour skiing.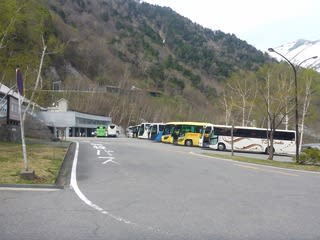 There are many buses waiting for the guests on the last day of the Golden Week.