Cycling-Day 6-Matsumoto Castle(115.3km)
Riding to Matsumoto Castle in the nice blue sky in May.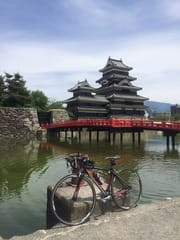 Day 6, 160 days for cycling, total distance 11,655.5km, total climb 160,771m
Matsumoto Castle 10:20-16:45
Distance today 115.3km, climb 1,027m, duration 10:0, avg speed 22.6km/h, burned 2,324kcal
Gear: GIANT DEFY COMPOSITE SE
Today's route
Now the bike riding season has come.
Today I go to Matsumoto.
Started at 10:20.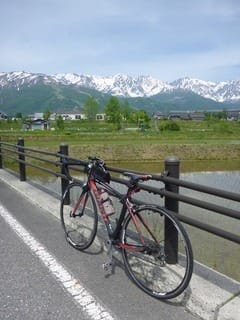 Alps azumino century ride is held tomorrow.
There are many signboard for it.
And also many cyclists.
To Omachi station in an hour.
I could see Mt. Jonen across Takase river.
Arrived at Matsumoto Castle in 2 hours half.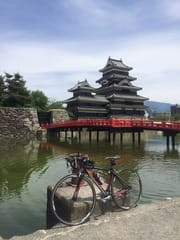 Today there are many tourists.
Lunch at Delhi with spicy curry.
No worries to sweat a lot on the way back.
Coming back to Matsumoto Castle.
Today Furusato-Gourmet-Haku, or County Gourmet Exhibition is held at the Castle.
The way back I had the strong against wind and riding was hard.
Hakuba mountains across Aoki lake.
Coming back at 16:45.
Today I am exhausted with over 100km riding.