Ski day 59 at HappoOne
Season Day 59, Powder 36 days, Backcountry 16 days, Telemark 9 days
HappoOne 9:00-9:45
Gear:Teneighty GUN+SCARPA FREEDOM
Bicycle to Happo again.
Today I attempted to join back country skiing, but
The black clouds are approaching.
At Grat.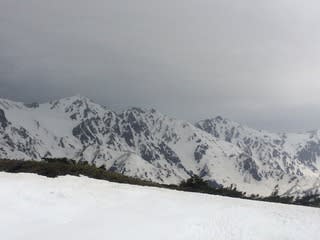 I feel some rain drops.
I went down to Skyline, but
It started raining on the lift.
I skied down very fast, because I came here by bicycle.
Eventually the duration was less than an hour.