Ski day 55 at HappoOne
Season Day 55, Powder 36 days, Backcountry 15 days, Telemark 8 days
HappoOne 13:30-14:35
Gear:HEAD i.Supershape Magnum
Happo One as usual.
It was raining in the morning and we came late in the afternoon.
Most of access lifts are already closed and there are only Gondola and Nakiyama lifts remaining for accessing.
The snow is disappearing under the Gondola.
Very foggy up there.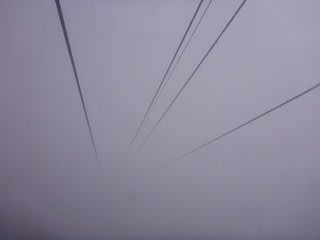 We could see the cables only.
Usagi.
Mmmm.
I saw the crack of the clouds on the web camera of Usagi, and we went to Grat for the blue sky up there, but
Mmmmm.
We skied down on each courses open, and finished.