Ski day 51 at Hakuba Valley
Skied down to the tail of the work horse.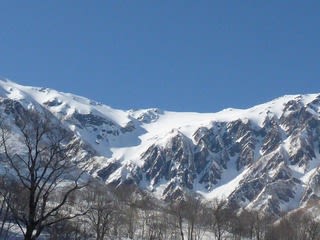 Season Day 51, Powder 36 days, Backcountry 15 days, Telemark 6 days
Hakuba Valley 8:50-16:05
Gear:Teneighty GUN+SCARPA FREEDOM
Distance today 0.0km, climb 600m, duration 7:15, avg speed 0.0km/h, burned 0kcal
Official Snow fall 0cm, Sarukura 6H 0cm
The radiative cooling got frost on the car window this morning.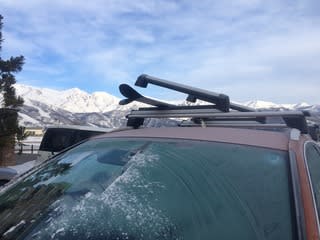 But today the forecast called the warm temperature.
BanYa Tour
planned a long tour, to Renge Onsen spa through Mt. Korenge and Mt. Yukikura, with easy access on the slushy snow.
As it is a long long tour, we had to leave early.
We were the first guest at the gondola ticketing window.
Leaving Tsugaike Tram station at 8:50.
Climbing fast.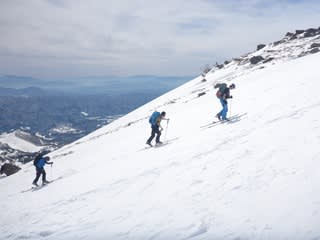 We arrived at Mt. Hakuba-Norikura at 10:20,
in 1 hour half, probably the short record. The duration was almost as long as the summer trekking.
We put the ski crampons at Hakuba Oike lake.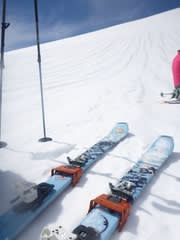 The ridge line was very icy.
Arrived at Funakoshi peak at 11:35. The icy ridge delayed us for walking.
Nice view of Hakuba summits.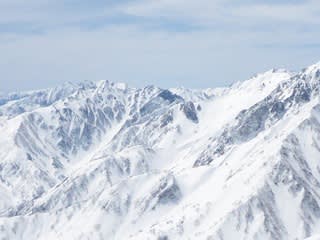 Mt. Korenge at 12:45.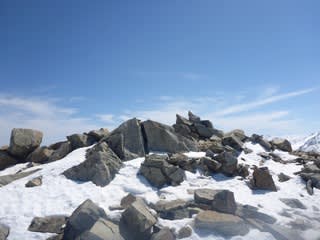 Mt Yukikura is in front of us, but we have to traverse on the long ridge to get there.
But the terrain to Mt. Yukikura looks very icy.
Not sure we can get there.
We put crampons for walking.
At Mikuni-Sakai at 13:30.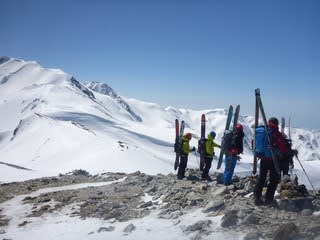 Discussion in front of Mt. Yukikura.
And we concluded not to go to Mt. Yukikura and Renge Onsen, as the traverse seems too icy and dangerous.
We are going to ski down to Hakuba Vallery, in the opposite side instead.
Steep slope.
It seems over 45 degrees.
The slope goes on.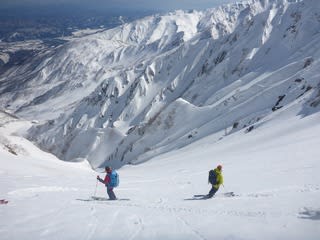 Dynamic view.
And we see how steep the slope is if we look up.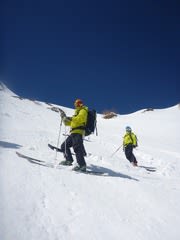 The condition was not the best, but we enjoyed the dynamic views and skiing.
And we found we went down just under the working horse.
The working horse is the shape of the black rocks just on the right of Mt. Shirouma, and the origin of its name.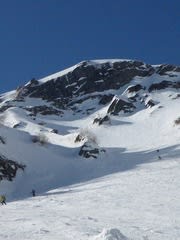 We really enjoyed the slope.
The lower part seemed with lots of phantoms of leg grabbers, but
we could enjoy the nice film crust.
We could see our traverse line into the tail of the work horse.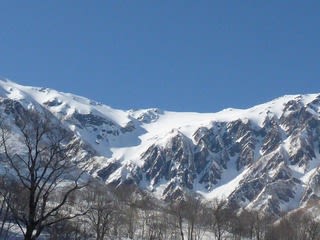 Arrived at Futamata at 16:05.
The tour ended out of the plan, but all's well that ends well.