Ski day 48 at HappoOne
Season Day 48, Powder 36 days, Backcountry 13 days, Telemark 5 days
HappoOne 8:00-12:00
Gear:HEAD i.Supershape Magnum
Official Snow fall 0cm, Sarukura 6H 0cm
Radiative cooling got frost on the window, and brought negative 8 degrees Celsius.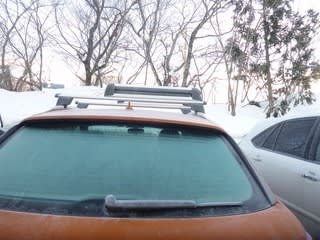 Usagi.
Today they have the competition as well.
We went to Riesen for the first.
We ran for a while.
Then we went to Panorama, after Riesen got rough.
Today the slopes were vacant due to the competition. We should say thank you to the competition.
Pretty much runs in the morning.