Ski day 47 at HappoOne
Probably the last resort powder.
Season Day 47, Powder 36 days, Backcountry 13 days, Telemark 5 days
HappoOne 8:00-9:30
Gear:BanYa M1102+SCARPA FREEDOM
Official Snow fall 60cm, Sarukura 6H 20cm
Today HappoOne had "Gijyutsusen", or a technical skiing competition. The cue for the gondola lift was in a mess.
Alpen Quad called 20 minutes delay due to "Course check by patrol".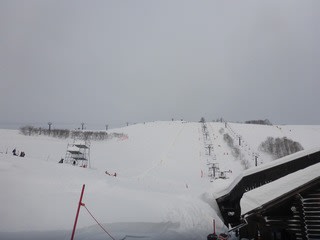 In the other hand the athletes, officials and even the supporter holding banners were riding on the lift before it was opened. To be honest we were not comfortable to see them.
Well, the athletes and officials can be acceptable, but the supporters with banners can't be.
Today there were some climbers but they also had to wait. They can also deserve to ride, because they do not ski down or disturb the competition.
We had to skied down through the very very narrow slope between Usagi and Kurobishi.
It was the powder snow, but packed with the winds.
In fact we did not regret so much due to the wind-packed snow even though the competition occupied Usagi and Sodeguro.
Then we went to Kurobishi.
This slope was also packed but it was good enough.
Upper Skyline was crusty,
but the lower part was good.
Then we did Skyline again.
We ended at 9:30.
The snow got worse in the lower part in the warm air.
Then we changed the skies and came back.
HappoOne 10:45-12:20
We used this approach from Wadano village a lot in the past, but we have not recently.
Kurobishi was finished.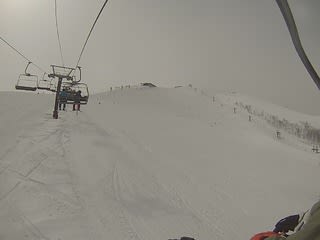 And we ended after several runs on Panorama.