Ski day 44 at HappoOne
HappoOne as usual.
Season Day 44, Powder 35 days, Backcountry 13 days, Telemark 4 days
HappoOne 8:15-12:30
Gear:HEAD i.Supershape Magnum
Official Snow fall 0cm, Sarukura 6H 0cm
I attempted the first run on Riesen,
but the course was closed due to a competition.
Then I went up to Grat.
The beautiful blue sky and the white Hakuba Summits.
Para gliders were flying.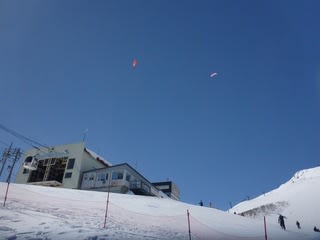 Not sure where they came from.
I repeated on Panorama instead of Riesen.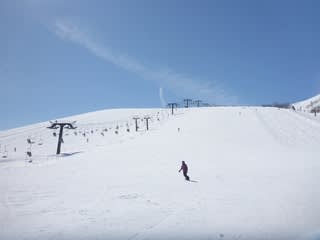 The slope was kept hard during the time despite of the sunny day.
I enjoyed the fast riding.
After the competition ends I went to Usagi.
Good to run on Usagi, nicely groomed. Usually it is always bumpy.
I could enjoy the hard terrains past noon.